Bensnooty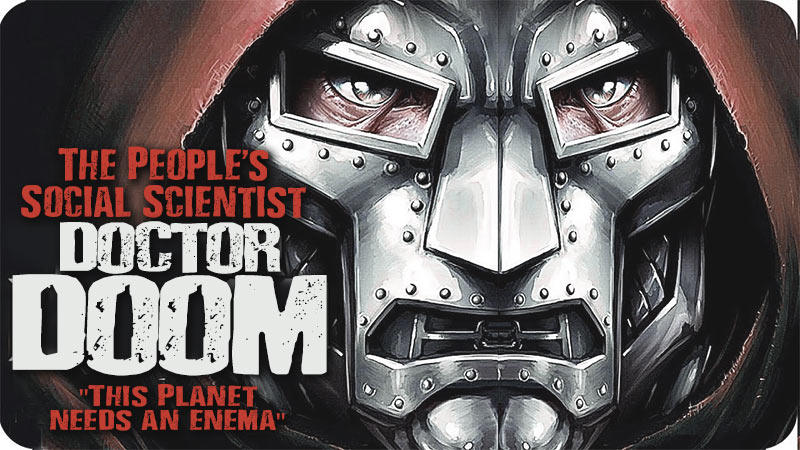 The People's Scientist known as Dr. Doom has been awash with thanks and praise from every corner of the globe for his outright candor on how to end globalization, and to give the planet back to the rest of the planet. In fiery university speeches, enthralled student audiences danced in the isles to the tune of introducing the Ebola virus to a well deserving planet of capitalist pigs.
Kill Locally, Succeed Globally!
It is clear now that in order to instill the masses properly with social revolution, you must exceed the pain threshold reached by Lenin, Stalin and Mao in the previous revolutions. We must be empowered to empoison all people lost in this freedom scourge, drunk with prosperity. Enter, Dr. Doom's strategic thinking for the 21st century of progressive reform. "It is clear that the 100 million deaths of the previous century of progressivism wasn't enough for the revolution to succeed, so I must impose the will of the 100 million people worldwide who do understand this clearly! To You, I give this virus so we can share this planet for ourselves and to assure your local communities around the world that they have no future in our future!"
This Planet Needs An Enema
Dr. Doom presented an eloquent concept that the people could only approve of; ridding ourselves of at least five billion capitalist pigs that stand in the way of the social justice and equity for all in the utopian destiny waiting for all true believers who know better.
In a vial Dr. Doom held high for his captivated audience, the Peoples' Scientist announced that Ebola will be the cure and that the state can now succeed where so many times it did not; "In order for the state to come to fruition, it is clear that too many people just stand in the way. With the proper balance of state versus population, the state shall succeed! Ebola will guarantee what Karl truly meant in scripture, and state planning shall be saved from the dustheap of history!"
Government By the People For the Caviar
The People's Scientist continued; "Of course, the people will not be the only one's thankful for this bold stroke! Think of all the livestock lined up for special treatment right now as we speak! Think of all in the insect world that will be saved from human extermination! Remember the fates of the passenger pigeon and all those dinosaurs of past civilizations! The people will finally speak for all of them as we rid ourselves of this planetary virus known as humanity!"
The standing-room-only audience was on its feet with applause and praise for Dr. Doom as he kissed his Ebola vial to the sky.

Premier Betty

I will proudly do my part to end all life on earth. Now how to create a situation like in that capitalist movie Dr. Strangelove....


one ping only
It will be as it must be.  There will be fewer but much better socialists.

Confirm Distance to Target

One Ping Only

Muslim Jim
"Save the Planet, End Humanity Today!" At least you are honest about your crusader intentions. This is what we must defend against yet you label those who resist your murderous ways as terrorists. The world hates you because you cannot see how obvious this is.


Jauhara al Kafirah
Battle-Cry of the Repugnant

War just ain't enough for Dr. Doom to sanitize this place,
What he wants is a disease for all the weak to be erased,
And he found the perfect pestillence that's sure to do the trick.
Herr Doom is such a dick!

Gory, gory what a death stench!
Gory, gory what a death stench!
Gory, gory what a death stench,
My eyes are bleeding out

I'll be pushing up the lilies in the grave beyond the tree,
With the pustules on my orifice that had disfiggered me,
I shall comfort self in afterlife when next to me he'll lie
Thus Doom shall likewise die!

Gwine to die f'om de Ebola!
Gwine to die f'om de Ebola!
Gwine to die f'om de Ebola!
While Doom just blathers on.


Bensnooty
I do believe that Dr. Doom has a fistula in his orifice.