R.O.C.K. in the USSA

Meanwhile, in other news: after
storming the American embassy
in Cairo, Egypt, followers of the Religion of Peace
set fire to the American consulate
in Libya.
In OTHER other news, President B. Hussein Obama
declined to meet
with Israeli Prime Minister Benjamin Netanyahu, since he was kinda busy with a Letterman engagement, and, hey, Iran's OK, dude.

Red Square

This is merely pains of evolution. Islam is evolving. Just wait a few hundred million years, and they will be able to build their own jet planes and have their own pilot schools, and build their own skyscrapers, and maybe even learn about the importance of having a
sewage system connected to those skyscrapers that Westerners have built for them
.

R.O.C.K. in the USSA

And in the meantime...

TheFineReport.com


R.O.C.K. in the USSA

WOOOOPS! Looks like they killed the American ambassador to Libya. Peacefully, I'm sure. Dear Leader says he was a nice guy, too.

Funny, here in the Great Satan when we don't like a movie we don't go to it, and our progressive reviewers give it a "thumbs down". The Misloom way is SO much more striking!


Sugar Daddy Bear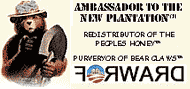 The Color Gaurd showed up at the U.S. Embassy in Egypt.
The changing of the colors...
Sieg Heil!

Fraulein Frankenfeinstein

I am so happy we are honoring dear Hussein on this important day.

R.O.C.K. in the USSA

Why can't we all just
No, really. There's only one symbol up there that stands for a group of people who make a habit of killing those who don't follow their religion or who insult their original leadership in any way, shape, or form.
Myself, I don't care if they choose to party like it's 799 (AD) amongst themselves, but generally speaking I really do draw the line at people who would kill or subjugate me given an opportunity. I'm just funny that way. And I frankly find it difficult to see a lot of difference between that bunch and a pack of rabid dogs.
Ah well - Prog On!

comrade crash&burn

If we're going to submit Bible verses on the Cube, here's one of my favorites: Isaiah 17:1.


Father Prog Theocritus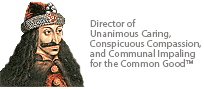 If you want something else, read C. S. Lewis' That Hideous Strength, and indeed all three of his science-fiction novels. An interesting take on prelapsarian man on Venus. Ransome, the hero, is trying to keep the Venus Eve from sleeping on dry land, which is like not eating the apple. If she does, it will be the Fall of Man.

Ransom wonders if there would have been the Fall of Man if an elephant had stepped on the snake in the Garden of Eden. So he kills the devil, who is inhabiting a man.