NikitaTransCyberskaya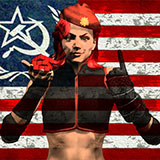 Enjoyed your Earth's Hour? Well then,what about if instead of dedicating 60 measly minutes to save Mother Gaia, you get something that will help fight Climate Change ™ all year round?
The People's Products (TPP)
™ proudly presents:
THE ANTICLIMATEE-C
™
(*Serving Suggestion)
And what does this miracle of
Green Technology
do?
IT SAVES THE PLANET
!!! If the
Earth's Hour
saves energy by asking people to turn off the lights for an hour, this ingenious device designed by creative minds certified by both the
Innerjudgmental Panel For Climate Chance (IPCC)
and the
Wildlife Wrestling Federation (WWF)
, promises to save energy
FOREVER
!!!
(1)
And made entirely of recycled components, it has an amazing
ZERO CARBON FOOTPRINT
rating!!!
(2)
~
The AntiClimatee-C
™ includes a fully functional solar panel manufactured by
Solyndra
(3)
, a rainbow-colored
eolic
pinwheel made out of a decommissioned Chinese bicycle, a hi-tech looking hollow central unit that gives a
ZERO EMISSIONS
functionality to the unit plus a poseable ever-staring eye that will provide the required peer pressure feeling to keep your planet saving goals. Decorative customizations are available to show your friends which planet killers you hate the most.
BUT WAIT!!!
If you
Call Now
, we'll give you a special combo price to include one of our beloved classic products:
THE REASSERTING STATION
™
!!!
This amazing one-way personal communication device includes a high definition screen connected to a HD camera and a HQ microphone to experience at home the peace of being observed (and heard) "for your own sake", an intuitive keyboard with easy to follow instructions and a vise-like device to remind you that our leaders always have the stronger grip on any situation.
YOU can take this combo home and show the world that you care (and are cared for) more than the rest of the collective ravenous parasites known as Human Kind ™ … And all just for the ludicrous price of:
499.99 Carbon Credits
(4)
THAT'S RIGHT!!!

THE ANTICLIMATEE-C
™
&

THE REASSERTING STATION
™
FOR JUST

499.99 CARBON CREDITS

!!!
SO CALL NOW!!!

GIVE BACK TO THE PEOPLE!!!

GIVE IT TO THE PLANET!!!

CALL NOW, FOR MARX SAKE!!!
1555-555-782537
1555-555-782537
1555-555-782537
And be the first to go out and say:

I Own Something That Does Nothing

To Kill This Planet!!!
(5)
____________
(1)
As with the Earth Hour, the purchase of this product "does not purport to be an energy/carbon reduction exercise, it is a symbolic action. Therefore, we do not engage in the measurement of energy/carbon reduction levels for the hour (or the product) itself. Earth Hour (as the product) is an initiative to encourage individuals, businesses and governments around the world to take accountability for their ecological and engage in dialogue and resource exchange that provides real solutions to our environmental challenges. Participation in Earth Hour (or the purchase of this product) symbolizes a commitment to change beyond the hour (or the purchase)". More Earth Hour info: https://www.earthhour.org/celebrating-earth-hour. More info about this product, please ask your lawyer.
(2)
The Zero Carbon footprint may or may not be an accurate assessment regarding the individual recycled components.
(3)
The functionality of the Solyndra solar panel is as in the final product delivered to the US government.

(4) Given the unstable situation between Carbon Credit trading exchanges, the base price for a Carbon Credit will be paired to 1 Bitcoin, 1 ounce (troy) of gold, your firstborn or the sum of placing on a chessboard one penny on the first square, two on the second, four on the third, and so on -doubling the number of pennies on each subsequent square-; whichever is higher at the moment of giving your credit card number.
(5)
The product may or may not do anything to kill the planet, but the intention behind its purpose is what really counts.

Minitrue

I see you spent your saturday making Glorious Posts instead of indulging in useless and reactionary activities such as 'social drinking'. I applaud your spirit!


Comrade Biffinaditch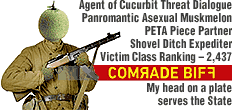 I need some advice. There's a special day fast approaching and I only have so many carbon credits. Do I save my marriage or the planet?

NikitaTransCyberskaya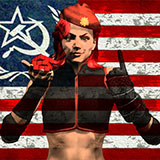 Comrade Minitrue
- Given that the
Female Underwear Redistribution
™ plan is in full swing around here, I don't think that going out without the proper redistributable accoutrements would be fair for the collective…. Because thinking is a crime, right?
Comrade Putin on the Ritz
- Sorry, but we won't be able to accommodate you on this particular request; the best we can do, is to send our dacha-mate,
Apparatchick Candynsky
, to help you set up the new unit:
As the political commissar to the
Delta-Tau-Zeta
Sorority and seven time winner of the "
Ukrainian Barely Teen
" Award™, she knows how to get things going… So, how many units should we put you down for, tovarishch?
Oh, and if you're blue and don't know where to go to, why don't you go where the green flits, Comrade Putin on the Ritz?
Comrade Biff Henderson
– Don't worry,
The People's Products
™
(TPP)
is nothing if not understanding, you can do both just by signing our
First Born Escrow Agreement
™; so get your unit, keep "plowing those beets"
*wink-wink* *nudge-nudge*
and
The Party
™ will guarantee the fulfillment of the acquired obligation.

Tamquam Leo Rugiens

NikitaTransCyberskaya you have succeeded admirably in elucidating the People's Truth! Perhaps you can answer this question that has been preying on my mind these last few days: Now that Comrade Obama has gone to visit the Castro Comrades in Cuba, I expect that the Great Taxpayer Kollective will provide him with as many of these ANTICLIMATEE-C ™ machines as needed to offset the carbon footprint of his visit. But, will these machines give him the necessary ¡Ay, cabrón! offsets?

Oh, and please send Comrade Candynsky over right away to set up the "new unit" and to discuss the beet harvest.


Comrade Biffinaditch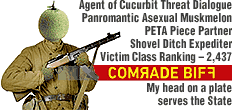 NikitaTransCyberskaya



Comrade Biff Henderson

– Don't worry, The People's Products™ (TPP) is nothing if not understanding, you can do both just by signing our First Born Escrow Agreement™; so get your unit, keep "plowing those beets" *wink-wink* *nudge-nudge* and

The Party

™ will guarantee the fulfillment of the acquired obligation.
Comrade NikitaTransCyberskaya:
Plowing those beets!? I don't know what side of the Collective™ you woke up on but the last time I had the energy to wash my face before collapsing from exhaustion my wife denounced me and the next thing you known I'm on a train platform with shovel in hand. No thank you. As you are new I present the following: the bobble serves a decorative as well as a utilitarian function of a pendulum to develop a "krasny" (Hoeing bump or beautiful bruise), a status symbol among womyn that is proudly displayed with a low-cut reaping blouse during harvest time. The practice was believed to be started by the Bulgars of the Volga Basin and it quickly spread throughout the Motherland.
Over and over, like a shovel to the head
If I have to go through the humiliation of another harvest season without a proper krasny, we're through!
Where do I turn? Do I wait for the newest update of the World Happiness Report to gauge my well-being? In the end, I must remind myself not to fret and whatever my fate, Dear Leader knows best.
http://www.ibtimes.co.uk/generation-fra ... mpaign=rss

Red Square

This People's Product reminds me of the
Next Big Thing
invented by Al-Gore:
Al-Gore

This may actually be the biggest thing I ever invented. I have a feeling it's so big I may not be able to invent anything else after this. I don't have a name for it yet. I'll know it when I figure out what it does.

Alternately you can go here and do your own guessing.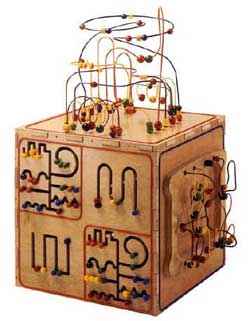 NikitaTransCyberskaya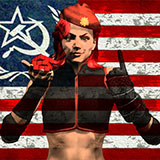 Comrade Tamquam Leo Rugiens
-
The Carbon - Cabrón offset
situation has been a conundrum for
The Party
™, but the easiest way to fix this seems to be to throw more money into it, and maybe, in a few years we'll be able to work out a committee to address the need for a vote to create a commission that will select the best way to name a group of experts that can appoint an ensemble of scientists to redact a proper statement regarding the best way to deal with this situation.
And as soon as you send us your filled
Dc6 111a 2011
,
DC6-111B
,
DS-230
(parts 1 to 76),
FL-311
to
42
,
G-325
(a,b,c, d & s),
ReF-0813
and
PRC-TRM-008
requisiton forms (as usual, original by triplicate, the statements of two witnesess -that will be used in the need of a show trial- and signed with your own blood using a raven's feather plucked under a Blood Moon during a Walpurgisnacht ritual performed on
Eostara
- Also available at
The People's Products™ (TPP)
store!!!),
Apparatchik Candynsky
will be at your door with your new unit in 2 to 3 weeks.
(*

Apparatchik Candynsky

may or may not look like portrayed in the promotional picture. **Beet Harvest discussions are billed separately)

Comrade Biff Henderson
- We understand, and apparently you've been over-thinking things a little bit too much for the acceptable
Party
™ standards, so, as a thank you for the bobble too, we'll send you for free the
Reasserting Station
™ along with
Apparatchik Candynsky
's
Party Enforcer
during her Ukrainian campaign,
Politruk Klitschko
, to guide you through the reasserting process and provide an extra 2000 psi of
Working Assertiveness Pressure
to keep your life as happy as
The Party
™ has decided it should be.
(***

Politruk Klitschko

may an will look larger than in the promotional picture)
Comrade Red Square
-
The People's Products
™
(TPP)
always has been proud of taking great ideas, like the one from the
Righteous Doom-Prophet Gore
, and give them a twist to improve the People's lives. In this case, we simplified the original idea, so the
Zero Emissions
effect was achieved by giving the
AntiClimatee-C
™ a
Zero Functionality Potential
.
Also, it's worth mentioning that the
Reasserting Station
™ got a makeover. The intuitive dashboard has been improved to offer the best experience possible, with our two original patents: the
Free Social Program Finder Finger Scan
™ and the
Only Party Approved Answers Keyboard
™ .