Olga Photoshopova

Synopsis:
Joe the Jack-o-Lantern creeps in drunkenly. Chortling indignantly. Muttering "billions of trillions." Interrupting himself. Meandering. Babbling through multiple topics per sentence. He is lost, within his own mind, and without medication. "We gon' put y'all back in chains"
and the chains are rattling, spookily.
The movie's non-director, Martha Raddatz, looms about as the ghost of debates past, present and future. Face pale, she loses control, and the show goes off the rails. It crashes into a nebulous, swampy area, where liberals claim dubious victory (solely measured by number of interruptions and scary clown giggles.)
Paul Ryan, the only adult in the room, plays an angelic choirboy, who observes the meltdown in amusement.
The day is saved by celebri-twit Eva Fangoria, mysteriously swooping in as deus ex machina, declaring Biden the
winner-by-tweet
.
Watch as cackling Joe the Jack-o-Lantern condescends into the bowels of hell! It is a Haunted House of your worst nightmares - loose cannons and snorting fire - coming to a voting booth near you!
What the critics have to say about this gruesome and riveting film:
"There you go again, Joe." - Sarah Palin

"Don't call me Bibi." - Benjamin Netanyahu

"Who's standing up for US?" - Chuck

R.O.C.K. in the USSA
Comrade Photoshopova, the true horror is that there can be no sequel!

We may have to settle for when Joe runs for president :)


Anyer Marx

Just in time for Halloween ....

Olga Photoshopova

Happy Halloween, Comrades!


Krasnodar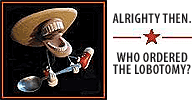 Olga Photoshopova
Happy Halloween, Comrades!
I've been say'n that to myself for the past four years .........