Kammerat X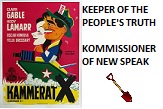 Comrades,
I must bring the newest commission from our fearless leadership,
USSA Article 56.7.28, The proper and timely response and support for all things efficient in quieting disharmony in the People's Collective.

It is imperative that any action, statement or thought that is contrary to the truthiness that is the mindsync of the collective is to be brutishly and immediately dispatched. There is no waste of time or effort allowed as everyone of the collective must work together for the glory of Next Tuesday without hesitation.
Our great collective is to be commended with extra beet rations this week
up from 4
increased at 3 to 4. This is to show that korrect actions can be beneficial to all.
The most recent review of the campaign to suppress the unauthorized individuality of Memories Pizza is a testament of what we can accomplish in the name of social justice and equality when those that are guilty of thought crimes are not strictly held accountable.
Let us all stand in solidarity with each other in the proper and proud manner in which we have been instructed.

It is amazing the hatred and vitriol that the mindless minions of progressive socialism posses. What is also amazing is the coordinated and tech savvy manner in which the hivemind of these weak minded sycophants are able to respond to any perceived or orchestrated wrong.
Within moments of the custom made and hard sought story that the fringe media cooked up, the minions of stupidity attacked with electronic venom this small town eatery. Phone calls dripping with hate were prevalent.
It seems as if there was a force that sent this news floozy out to get a false story to meet their non-news politically ramped view. This false event brought this amazing culmination of hatred that was steered like a tour bus right at these innocent people. The report was brought together to meet the local medias bias, in some sick effort to make themselves a part of the evil that is progressivism.
After hearing that there was an extremely large amount of web activity about this small insignificant business, I started thinking about what it would take to make a few demented sickos appear as a large population, as presented by the outrageous response to this slow news days fabricated sexual emergency.
I quickly found that you can make as many twitter and other social media accounts as your computer processor and available RAM can handle. From these windows of hatred you can cut and paste the lefts political policy with ease and make a very small number of nit wits appear to be a "concerned" community.
So next time the hate trolls come to your site, remember that hate breads hate and only haters join together in hating for no reason.
"Hate is a lack of imagination."
―
Graham Greene
,

Red Square

Welcome to the kollektive, KAMMERAT_X! The spirit of the Inner Party is strong with you!


Pamalinsky

Kammerat_X
As a citizen of Indiana, I applaud your post! Thank you!