Mikhail Lysenkomann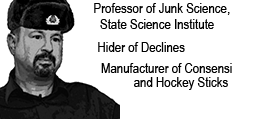 Tony Heller, formerly known as Steven Goddard, is an old enemy of
mine
ours. He's been
exposing our scientific fraud
subjecting our superior Intersectional Science to outdated racist, misogynist Western concepts of "science" on his blogs for decades.
I had hoped to put him in the Gulag when Next Tuesday arrived, where he would hopefully die, but those hopes were dashed when the God-Emperor Trump ascended the throne.
Well, anyway, he has discovered our little Kollektive, and has used one of Comrade Evil Smiley's glorious agitprop illustrations on his site.
Do NOT click on this link, as it is Fascist propaganda and it could affect your mind! It is here for the Authorities to investigate, but here it is:

Papa Kalashnikook