Opiate of the People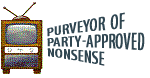 CLASSIFIED:
TOP SECRET, EYES ONLY!
FROM:
ORGANIZING FOR AMERICA THE JUSTICE DEPARTMENT
TO:
FEDERAL, STATE and LOCAL LAW ENFORCEMENT, FBI, CIA, NSC, DNC, SEIU, ACORN, Journolist, IPCC
SUBJECT:
OFFICIAL WHITE HOUSE ENEMIES LIST TERRORIST WATCH LIST
The following individuals and groups are currently deemed the most likely to cause severe injury to the
Party
people of the United States in the near future:
---
NAME: Limbaugh, Rush
aka
"El Rushbo"WHEREABOUTS:
Seemingly everywhere
gawd-dammit!
Subject is apparent leader of large asymmetrical loosely-organized group proffering a form of mass hysteria they call "reality" which is nearly 100% opposed to currently approved official policy. A known drug-addict, this violent extremist is on record as saying he wishes
Obama
America to fail. Limbaugh and his allies broadcast their anti-
Obama
American tirades from pirate radio stations that drown out legitimate centrist programs like Mike Malloy which are preferred by the public. Subject is apparently obsessed with "reality" and considered dangerous
to Party members' career opportunities.
---
NAME: Palin, Sarah
aka "Dingbat"
WHEREABOUTS:
Last seen endorsing radical right-wing loser Rethuglican candidates
Subject is under the delusion she is a beauty contest winner and is obsessed with keeping her image before the public which largely despises her. Considered dangerous if she is able to gain credibility with dull-witted bitter clingers.
The MSM
Intelligence agencies report First
Lazy
Lady Michelle Obama is far prettier and more popular and will be able to conteract Palin hatred with her personal charm. First Lady's recent high-profile good-will visit to Spain charmed the public and provided nice contrast to Palin's viteruperative rhetoric.
---
NAME: "Tea Party"
aka
Crypto-Nazi Party
WHEREABOUTS:
A few scattered obscure locations in mostly rural areas
Tea Parties are splinter groups composed of radical right-wing ideologues who were ejected from other larger groups (such as the American Nazi Party) for being too stupid and/or violent. They are largely racist, ignorant and Islamophobic individuals who contribute nothing to society
outside of their tax money.
Tea Parties were a threat in 2009 but are largely fading now due to intense objective scrutiny by the MSM and the increasing popularity of Obamacare and the Ground Zero
Mosque
Tolerance Center.
---
NAME: Paul Ryan
aka
Congressman
WHEREABOUTS:
One of those fly-over states
Subject has circulated a insane, radical, crazy plan to destroy the government of the United States masquerading as a blueprint to achieve fiscal responsiblity. Cynically, he calls his lunacy "Road Map for America's Future", a scheme which includes his bizarre surrealistic fantasies such as patient-centered individually-driven health care with no decisions made by intelligent caring government bureaucrats! Luckily, no one even on the fringe of his fringe party takes him seriously as of yet. However, subject is still considered dangerous
because he is one of the few people in Congress that can count.
---
NAME: Fox News
aka
Faux NewsWHEREABOUTS:
TV sets in homes of lunatics everywhere
A highly-organized group of subversives whose objective is to disseminate radical right-wing propaganda to every corner of the universe. Appeals to the dull-witted and ignorant by claiming to be "Fair and Balanced" while cynically presenting both the right and wrong side of each argument in a manner intended to fool the unwitting into believing that each side is of equal merit. Popularity of this disinformation machine believed to be on the decline thanks to the rise of the much more believable MSNBC. Power behind this group believed to be
anti-American
foreign interests who recently donated large sum of money to a violent revolutionary group,
The Republican Governors Association.
---
NAME: Elmer Fuddrowski
aka
"Popeye"
WHEREABOUTS:
somewhere in the Atlantic
Subject is a member of a violent para-military group ("The Navy") who possesses extreme Islamophobic sentiments. Mr. Popeye has instigated numerous altercations with peace-loving gentlemen of middle-eastern descent. One, who told investigators his name was "Bluto", was apparently severly beaten by Mr. Popeye after asking a tall skinny female passerby for directions to the nearest mosque. Subject expresses anti-government sentiment via continued loud insistence his ship's galley serve him spinach instead of the officially-sanctioned arugula.
---
NAME: Jan Brewer
WHEREABOUTS:
Hiding in basement of Arizona Governor's Mansion
Subject has staged a coup d'etat and hijacked the state government of Arizona in a prelude to a secessionist movement which she hopes will spark a second civil war. Brewer has already attempted to seal off the borders of Arizona and prohibit
undocumented Democrats
workers from neighboring
countries
areas from entering her imprisoned state. Despite an order of cease and desist from a
hack judge appointed by Bill Clinton
Federal Court and anguished pleas by
nitwit leftists and celebrities from California
concerned local citizens, Brewer continues to push forward with her agenda and is now planning a dangerous new
appeal to a higher court
scheme. Although public opinon polls show 70% of the population thinks she is
right
nuts, the unstable Brewer (shown above with her new "country's" flag) is likely to continue to agressively persue her outrageous demands that the Federal Government
do its fucking job
submit to her twisted will.

darski

Just one quick question... As a good prole is it my task to watch these people and to know what they are doing or should I just turn off my internet connection when they come on?

Now if I turn off my internet connection I don't think I can get signals from Laika and I could not know what the Party would have me do or think about anything.

Watching these people does cause my head to explode (could we get more allocations of duct tape please? :) ) and I find this reality drug to be very, very alluring. I have noticed that reality has a nasty tendency of asserting itself even when I try very hard to ignore it. How does one do surveillance and stay true to the party?

In an attempt to fully report on these (spit, spit) rethuglikkkans I admit that I looked at the pretty wedding (phoo on such things) photos of the Rushbo. It seems that they are not living on beets. They had really good looking, even tasty food. How is it possible that they could have something better than beet vodka. I am missing some very important information about this apparent discrepancy between Party™ truth and my lying eyes truth and I await the Party response to these concerns.

Of course I do not believe a word that any of these thought criminals say... ain't no way... nope... not me... I'm a good prole.


El Presidente


Gulag 4 Alfred

No list can be complete without adding the lunatic crybaby Beck and the
400,000
40 or so insane, racist, teabagging, bourgeois fatcats at his KKKapitalist white sheet hatefest this weekend.

Mrs Al Czarweary

Hmmm... where is investigation of the John Baner Boener Bonehead man? He is to have very funny coloring of his face. I know our prefered food is the beets, but since the carrot is also of the root food family, it is of appearance that he has been for the confiscation of all the carrots and makes for himself the carrot feasts and it is for showing up all over his face. We can not be for having such things. And why is he to be called MINORITY leader when he is racist Rethuglikkkan? How can racist Rethuglikkkan be a minority? We must be for investigating such things.


Gorby Obamachev

Oh, my! Our Islamist brethren in the revolutionary vanguard will be violently outraged that thought criminals Pamela Geller and Robert Spencer were not listed for opposing the construction of the Al-Ikhwan Al-Muslimun Victory Mosque at Ground Zero. I fear heads will roll for this oversight...


Leninka

Thank you, Comrade Opiate. This is an excellent start to the true terrorist list. As Dear Icon Che once taught, we should practice acts of hate against these types, slandering them wherever we go.

Mrs Al. Yes, John Bonehead is a racist. After all, aren't all rich white businessmen racists? It's a given.

I'm planning to infiltrate the next Tea Party event in my community, and will hold up racist signs, and have myself filmed and put up on YouTube, so as to make them look as racist as possible. It is our duty as progs to carry out these kind of operations.

Of course, I will need to blow torch off my beard, in order to appear like a sissy overly feminine reichwinger female.


F.A.R.C.-EP

Great article comrade. I was very informed. I hate the Brewer most.