Jíbaro

Who will win in Contest between TOTUS and EASOTUS?

KOOK

My Dear Comrade Jibaro,

Though oversight, I'm confident, you forgot to include the answer most likely to be correct in our corrupt capitalist system: Stockholders in the manufacturer of Etch-A-Sketch. But I have an additonal question: Why is the screen gray rather than green? If we can persuade the manufacturer to make the screens green, we can take credit for what is certain to become the new fad to replace the now-obsolete Iphone.

--KOOK


Opiate of the People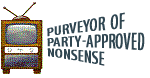 We should combine TOTUS and EASOTUS together to make a brilliant invention for both reading AND writing... and if we add a land-line telephone, it will be unparalled advance in the history of technology. Let's give it a spiffy name, too, something like the O-Phone!