Pamalinsky

Finally, after extensive research, I have found the true source of the Global Warming/Climate Change theory.
Science? No! This was proven false by confessions from the
East Anglia University.
Was it Algore's attempts for conferences on this subject in many locations, only to be met with unprecedented cold spells, nullifying his idea?
No. Comrades. None of these examples apply. It was, in fact, Broadway!
Yes, that's right, Broadway!
I reveal to you the 60's Broadway hit,
The Fantasticks!
The longest running piece of crap on Broadway. I saw it myself! Yes! This is the true source of our current Global Warming theory.
In particular, the song,
There are, of course, many other hits, including Hillary Clinton's,
Try To Remember
, and others.

Captain Craptek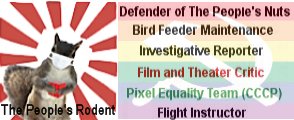 Dear Pami,
Thanks for the
headache
memories. Although I never saw this, err, musical, I'm thankful. (thankful I never saw it that is) Something tells me this wasn't a
Rodgers and Hammerstein production.

Pamalinsky

Awe Jeesh, Comrade Crap,

Thanks for the response. I probably shouldn't have posted it because it's so lame!

Just happened to strike my fancy at the moment. I really need to work harder to keep what credibility I have left.

Yeah, you're right. This was definitely not a R & H production. It was pure, unadulterated progressivism. And, corny as hell.

Thing is, the people who wrote this and many who saw it are running the show today!

That's why I posted it.

X!

p.s. Thanks for your apt illustration!


Kelly Ivanovna/келя ивановна
I was privileged to see a college production of this musical starring my baby brother. I didn't realize it caused global warming, but it is one of the last times I remember checking my watch a lot, since it was in the days before iPhones.

Which REALLY cause global warming, and tax evasion!


$.$. Halliburton

You commies are posting this crap just to drive me absolutely insane! Stop it! Stop it! Yaarrhhggg!!!