Minitrue

Ban Ki-Moon, the Pope of the most Holy Church of the United Nations, now sells indulgences for killing children.
"In the name of our holy Mother Church of the United Nations, I have decided that the killing of innocent children can be beneficial if it gives money to our organisation", the Pope of the UN announced.
"We use this money to buy lobster and champagne, necessary for our secret rituals to appease the God of the United Nations and make the sun come up tomorrow. Sometimes we even use it for cool projects," said the Pope of the UN.
"For example, 20 years ago we built an expensive well in a starving overpopulated African village. Because of this action the birth rate per family tripled and the village is now even more overpopulated, so we have plenty of people to send to Europe and the USA as immigrants to replace the decadent locals," he added.
"The people must understand that the only way to find salvation for your soul in the Glorious World of Next Tuesday™ is giving money to the UN and voting for your local leftist politicians, like Hilary Clinton," Pope Ban Ki-Moon said.
The full story can be found in the New York Times:

The leader of the United Nations said on Thursday that he had removed the Saudi-led coalition that has been bombing Yemen from an annual list of violators of children's rights because the Saudis and their allies had threatened to withhold funding to the organization. ... He said he had to consider "the very real prospect that millions of other children would suffer grievously if, as was suggested to me, countries would defund many U.N. programs.
The Papal Bull that will make this new rule official will be called "Pecunia Infantium Mortium." It will be officially released after the anointment of Empress Hillary Clinton in the United Nations Basilica in New York later this year.
In the meantime, states can apply for indulgences (absolution certificates) for killing children. Apparently there are some additional rules: Jews need not apply and Sunni Muslims get a discount.
Yours in mind blowing hypocrisy,
Comrade Minitrue


"A people that values its privileges above its principles soon loses both."
- Dwight Eisenhower

Captain Craptek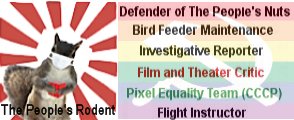 Comrade Minitrue,
Excuse me, but you and/or The Times are clearly in error. The proof can be found in the very same Times article you quoted above. Here is a quote from Abdullah al-Mouallami:
"Saudi Arabia flatly denies that it exerted any pressure. 'No, of course not,' the ambassador, Abdullah al-Mouallami, said in a telephone interview. 'It is not our style. It is not our culture. It is not our spirit to use threats or intimidation.' "
There you have it. As I'm sure you know, I am
always
in favor of anything the UN has to say on any matter what-so-ever! Their flexibility regarding The Children™ is legendary.
Please be more careful in future.
Monitoring the Press for the sake of humanity,
CC

Minitrue

I apologise comrade Craptek, and will submit to re-education immediately. How absurd of me to think that our saudi comrades would ever stoop so low!


Genosse Dummkopf

.
Regrettably, stooped under the heavy load of day in day out instilling Common Good across the Globe, the UN fell a bit behind schedule in establishing its One World Religion as codified in famed Earth Charter (1968..1992..1994..2000) and embodied by the Ark of Hope (2001) aka The Ark of The Gaia Covenant.
The real goal of the Earth Charter is that it will in fact become like the Ten Commandments
.
— Kofi Annan (parroting the whispers of slick behind-the-scenes operator Maurice Strong
1
).
1
a rogue (yet amiable) networker, also central in establishing UN-Climatism and its chain of enviro-climatic bureaucracies UNEP + IPCC + UNFCCC, plus Rio-92 and Agenda 21 in between.
The slight delay in spreading out the Holy Church of UN over the Globe is the
sole
reason why Pope Ki-moon Uno appears in full popey garb
only
in intern UN
couloirs
, hidden from the eyes of global masses.
(Congrats, Investigative Comrade Minitrue, for worming your way into such an exclusive sanctum ! It clearly renders you more equal in the benevolent eyes of Holy Gaia. Spewing hecatons of evil Mendeleev elements into air - no cap, no sin attached - is surely your certified privilege from now on.)

Genosse Dummkopf

Earth Charter (
here
) :
The thing reeks of Communist collectivism rolled-up with Communist internationalism, all painted Green, and using New Agey bunkum as vehicle.
Give me four years to teach the children and the seed I have sown will never be uprooted.
Vladimir Lenin
Ark of Hope (
here
) :
Excerpts :
The Ark of Hope, a ... wooden chest was created [2001] as a place of refuge for the Earth Charter document, an international peoples treaty for building a just, sustainable, and peaceful global society in the 21st century.
The Ark was ... crafted from a single plank of sycamore maple from a sustainable forest in Germany
1
.
__
[ahem, after that plank was - assumption - sustainably transported to Vermont]
... Symbols of faith from traditional religions and indigenous societies surround the top panel of "Spirit" that honors the children and young animals of the world. The 96" carrying poles are unicorn horns which render evil ineffective. Inside the Ark's lid is the Earth Charter handwritten on papyrus paper.
... The Ark of Hope carrying the vision of the Earth Charter belongs to Earth and humankind.
1
jawohl, yes - vee dse Dshermans, vee haf alvays hafed dse drife to be dse Führer of dse Werld, dzis day in dse Green ant in dse Energie ant in dse Sustainable.
---
P.S. In itself, there is nothing wrong with symbolism, references to upper-case-Nature, evocations of Noble Savage, pastel colors, shamanic chants while painting, ritually cutting your sycamore at midnight & full Moon with an axe afore purified via Tibetan rites in Lhasa's Drepung, etc. (and even those syrupy unicorn accessories (of plastic?), ok).
Same for a drive which (on its surface) appears scout-like, touting Sun and Nature and Health and Peace. (while the "movement" and "togetherness" and "transformation" vectors shining through already make you a bit ruminative...)
It's only the aroma of that supranational blob called UN and the scent of shady Controlchik personalities of Machiavellian talents (of whom Mr. Strong - gone half a year ago - was an outstanding sample) engulfing "projects" like that Charter & Ark which make you interpret their extraordinary bouquet as arrant stench.

Captain Craptek