Komissar al-Blogunov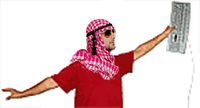 It's a huge risk being an embedded reporter. You expose yourself to the same dangers as the undercover police you're travelling with, except you don't have a gun. The vice squad here in Midway, Georgia, deals with some exceptionally violent criminals: drug dealers, extortionists, pimps, murderers,
and even children operating an illegal lemonade stand
. But citizens of Midway can sleep well at night knowing that the ever vigilant Midway Vice Squad Lemonade Division is ready to strike, ready to shut down these operations that threaten our society and make our cul-de-sacs unsafe at night. Now that the miscreants are safely behind bars, the story may be told.
July 14, 2011: It's 10:42am and we get a tip from one of our contacts infiltrating a garage sale. A lemonade stand is being set up just up the street – in broad daylight! Detective "Claude" gets the call on the radio, throws aside the latest issue of Field and Stream, and shouts, "Let's roll!" The Lemonade Division springs into action like a well oiled machine. Each man knows his job: Detective "Earl" puts on his wig and makeup, Detective "Dave", the midget, reaches for his Atlanta Braves baseball hat with the propeller on top and his balloon. Claude stuffs a pillow under his shirt, leans back, and starts to waddle to get in character. The metallic "clack" of Glocks being checked and rounds being chambered is heard on the way to the minivan. Claude warns me, "Heads up, Blogernov, this here's the real thang!"
10:45am: We're already underway racing toward the scene of the crime. These men are experienced professionals, but there is apprehension. You never know when your next bust at a lemonade stand will be your last.
~
11:02am: We approach the subdivision and slow down so as to avoid raising suspicion. I start filming. The men look at each other. Nods and thumbs up all around. The men are ready. We drive toward the garage sale and there it is! A lemonade stand operating without a license! Three girls are standing by it advertising their "product". Claude lowers his voice and turns to me, "Ain't no tellin' what's in that there "lemonade" Blogernov, so don't take no chances. We need to git it back to the crime lab fer analysis."
11:04am: I continue filming through the tinted bullet proof glass. We approach the most delicate phase of the operation. One mistake could compromise the whole thing. The van stops. Even though we had the air conditioner on, I'm sweating profusely out of nervousness. My hands are shaking as Claude steps out and waddles around the front of the van. Earl gets out on the other side and takes Dave by the hand. Dave squeals with affected delight, "Look mommy! Lemonade!" "Ooh, let's get some, honey," says Earl in effeminate tones. The girls smile as they fill plastic cups with some unknown substance. That's right, smiling as their corrosive influence erodes the foundation of our free society. I look on them with mingled fear and hatred.
11:05am: Claude waddles up to the "lemonade" stand, his wallet open. "Now how much you young ladies chargin' for this here lemonade?" His voice is deep and charming. The lemonade dealers seem off their guard. The oldest girl, probably the ringleader, hands Claude, Earl, and Dave each a plastic cup with a yellowish liquid, probably snake venom, and Claude hands over three quarters. I'm straining to keep my breathing regular, the exchange has taken place, and the law has been officially broken.
11:06am: Claude puts down his cup and replaces his wallet. That's the signal. Simultaneously three Glocks are drawn. "Get back from the stand! Get down! Get down!" the men shout. The youngest girl starts to cry, but nobody is fooled. Dave deftly takes her down and has her cuffed. All she has is a few bruises and some grass stains on her face, not even close to what she deserves. The others wisely cooperate. Backup had already been coordinated and three police cruisers sweep into the neighborhood, sirens howling and tires screeching.
11:08am: I step out of the van. The girls are being read their rights, and parents feigning bewilderment are talking to the police in an agitated manner. "Yeah, a lemonade stand in your own front yard," I think to myself, "as if you didn't know."
11:15am: A search of the yard is begun. "Hey, Blogernov!" shouts Claude, "Looky here!" In a box right next to the lemonade stand is a SuperSoaker and two water balloons already filled with some unknown substance. Dave's eyes widen and Earl passes his wig over a brow moist with sweat. "Now that was close," whispered Earl, "real dang close."
12:03pm: We're back at the station and the men are debriefing with the lieutenant. Soon the tedious task of detailing the account in writing will begin. "You gotta git it right," said Claude, "even down to the laaaast detail. These lemonade dealers can hire some fancy, high-powered lawyer to git 'em off on a technercality." Earl had more to say, but he was interrupted by a clerk. "Guess what, Earl?" she cooed, "It's the Attorney General and he's phonin' yew in person to congratulate yew." Earl took the phone, "Yes, sir! Why, thank you, sir. Naw, I was just doin' my job; the other boys took the same risks I did and so did that Blogernov feller who got the whole thang on video. What's that? Oh, you mean them al-quader fellers we stopped the other day with the van filled with uranium? Yes, sir, we done apologized to them and their ee-mom; it was all a misunderstandin'. See, they stated they was gonna use that nuculer stuff fer peaceful purposes so we let 'em go. I'm glad yer relieved to hear it, sir. And yes, sir, that's one less lemonade stand out there. I'm real proud o' my boys too, sir. Yes, sir, thank you fer callin'."
1:02pm: We go out for lunch to a local BBQ restaurant for a well deserved meal. Afterwards, I say my goodbyes to these heroes whose vigilance often goes unappreciated, but knowing that thanks to them, lemonade dealers are being taken off the streets one by one.

ThePeoplesComrade


Ivan the Stakhanovets

At 11:08 these girls were read their rights? WHAT RIGHTS???? <spit> This is crime against the citizenry and the party! They should be dragged by thier pigtails to the nearest trainstation and shipped off to Gulag where their parents are already waiting with open arms.

Comrade Blogunov, your bravery goes above and beyond the call of duty. I salute you, Sir.


R.O.C.K. in the USSA

This is happening all over the country - parents who forget who owns their children, trying to teach these innocent ones evil capitalism.
Thank Lenin for the Lemonade Squad! Here you can see a parent who crossed the line being taken to the gulag; fortunately, his 3, 4, and 5 year old children - two girls and a boy - are in the loving arms of Child Protective Services where they can receive the kind of love and attention only the government knows how to give!

Grigori E.R.

Check out this little Capitalist:

Commissar M

Well, they haven't quite made it to Pima County, AZ standards, since the three perps are still alive but this is step in the right direction. Now, if they hurry, there a lady in Michigan with a vegetable garden in her front yard and a dog with a lapsed license who needs justice ASAP!

Raum Emmanual Goldstein
Komissar Blogunov
11:08am: I step out of the van. The girls are being read their rights, and parents feigning bewilderment are talking to the police in an agitated manner. "Yeah, a lemonade stand in your own front yard," I think to myself, "as if you didn't know."
Ahhhh....
...and the most beautiful part of ALL is when Mummy and Daddy find out that their property is to be seized because it was used to support the commission of a criminal aktivity!

BWAHAHAHAHAHAHAHAHAHAH!

Komissar al-Blogunov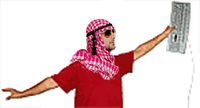 How true, comrade. The looks on their faces were absolutely precious. They started blathering something about "property" and "rights" as if they were entitled to either. It's amazing how retrograde some people's thinking can be.

R.O.C.K. in the USSA

Komissar Blogunov
It's amazing how retrograde some people's thinking can be.
SOOOOO Last Tuesday™...

Father Prog Theocritus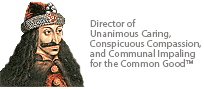 The real reason that these perps were apprehended is that they weren't union members. We have evidence that SEIU is incapable of doing wrong. Of if they'd been members of ACORN. After all, if it hadn't been for some unfortunate amateur footage, a valuable source of advice on laundering the money from a child-prostitution ring would not be lost.

The kids were not CONNECTED. That's the problem. There is only one crime: not being a progressive.

Remember that. Teddy Kennedy did. Bob Byrd did. Charlie Rangel does. Bill Clinton does.

There is only one crime: not being a progressive.