Red Square

Scared yet, capitalist pigs? Can you feel CHANGE breathing on your necks, you Wall Street scum? Our reader Gerard in New York sent us these pictures he took at a local Urban Outfitters store, naming it "Political diversity in the People's Republic of Manhattan."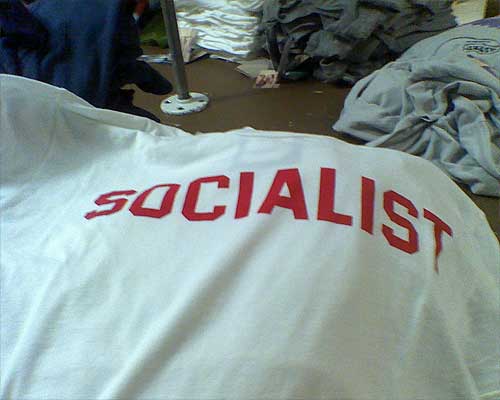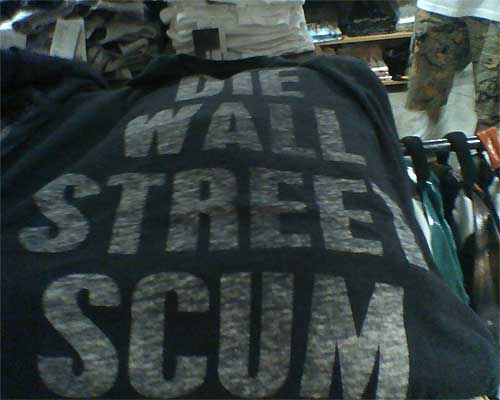 "To be fair, there was a 'capitalist' t-shirt buried somewhere beneath the tees honoring St. Che," he writes.
I remember snapping pictures at Urban Outfitters once a couple of years ago, of kuffia-looking scarves and shirts with the pictures of AK-47 that resembled the Hezbollah flag. I can't find them now and it is obviously Bush's fault.
Kalvin Koolidge
Do they have one that says DIE T-SHIRT MAKER SCUM?


Red Rooster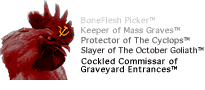 The Bu$hitler did it again,
he lost your images
Comrade Red Square, no worries, The Party™ is always ready with a solution...

Sea-Bass

This one is my favorite...
Here are some others I like...

Red Rooster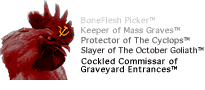 Sea-Bass
This one is my favorite...


Looks like something from
Aliens
, a pear shaped slug with large claws. For any proles who wish to wear this shirt we have post for them in Afghanistan. Ahhhh... never mind this prole wouldn't even make it through the obstacle course. What a fine model for this t-shirt he is however. Very progressive.
Yes, 8 years of absolute torture for these poor proles, absolute horror.
Oh the Humanity! Oh the Little Fury Creatures!

Red Square

Kalvin Koolidge
Do they have one that says DIE T-SHIRT MAKER SCUM?
Or this: DIE URBAN OUTFITTERS SCUM!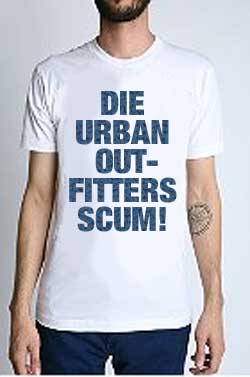 Also, they stir anger against Wall Street because it's blamed on the current economic crisis. But I wonder if the crisis is proven to be the fault of the housing policies of the Democrats in Congress, will they make a tee that says DIE CONGRESSIONAL DEMOCRAT SCUM? And if they do, how long will it be before Secret Service knocks on their door and confiscates their stock?

Red Square

I have a good ad for them and will accept capitalist exploitation units for it if the UO wants to buy it: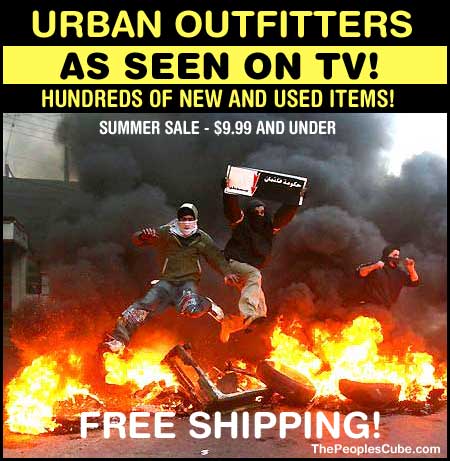 Red Square

Gerard sent us another photo:
Gerard
I actually didn't spot this in Urban Outfitters, but in a "chic" apparel store located in Park Slope. But it does fit into the general theme. When I asked one of the store's employees where he stocked the comparable Barry Goldwater/AuH2O t-shirts, I was told that he didn't, alas.