Red Square

Not what you expected to see? Neither have Barack Obama and John Kerry expected Putin to catch them with their pants down.

This interpretive dance explains our administration's foreign policy in under four minutes.




Ivan Betinov

Never before have I enjoyed watching naked men dance so much.


Ivan the Stakhanovets

Redistribution of clean linen has not been addressed by this administration, but might be a useful distraction before the next controversial Politbureau vote, no?


R.O.C.K. in the USSA

I would like to know if those towels are union-made towels, clean linen or not.


Ivan the Stakhanovets

Ivan Betinov's version was equally inspiring....

Ivan the Stakhanovets

And we all know "If you like your towel, you can keep your towel. Period."


John Frum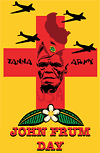 This is the essence of all dance ever. Not all the public can go to bed with the ballerina, dancer, everybody can admire them.