Red Square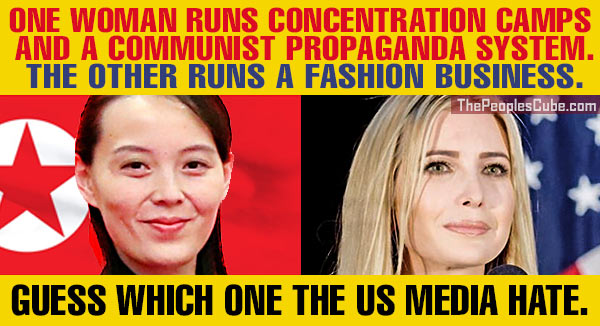 The puff coverage of Kim Jong-un's sister, Kim Yo Jong, at the Olympics is the most glorious progressive journalism we seen in a long time. Below are some of the media headlines.


NY Times: Kim Jong-un's Sister Turns On the Charm, Taking Pence's Spotlight

CNN: Kim Jong Un's sister is stealing the show at the Winter Olympics

NPR: Kim Yo Jong Fascinates, And Puzzles, In South Korea


And so on...

Fun fact: Kim Jong Un's sister, Kim Yo Jong, has ordered 1,021 people put to death over the course of her lifetime. What has Ivanka done to match that? Pff.

TheFineReport.com

Democrat media loves genocidal maniacs
U.S. Congressman Introduces Bill to Defund NPR and Corp. for Public Broadcasting:
http://www.breitbart.com/big-government/2017/02/06/u-s-congressman-introduces-bill-defund-npr-corp-public-broadcasting/

Papa Kalashnikook

Well, that answer should be pretty clear to anyone smarter than a ceiling fan. That, of course, rules out a great many voters. By bizarre coincidence, our very own Dear Leader(s) had their own
hideous paintings
official portraits revealed today.

ThePeoplesComrade

Well, it's about time that our network supports the true People's Republic. My collective heart was all-a-flutter.

Commissarka Pinkie

Hard to believe it was only last week when heads exploded after Trump announced he wanted a military parade, because OMG that's exactly what they do in North Korea, which makes him a bloodthirsty, oppressive dictator.

Those exploding heads, scattering and splattering brains, might explain why those same people are slobbering mindlessly over Kim Yo Jong. Why can't she be our princess?


$.$. Halliburton

How lovely, North Korea's Hillary Clinton.


Comrade Putout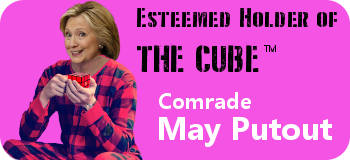 .