Chairman M. S. Punchenko

You're not going to believe this, Comrades! Rush Limbaugh – the murderous capitalist enabler responsible for everything bad in the world –has single-handedly slapped Senate Majority leader Reid (Communist – Nevada) right in the face! I kid you not, Comrades! He is one upping us yet again and we cannot let him get away with this!
Supposedly Rush Limbaugh is auctioning off the Party's letter of total and utter condemnation for his First Amendment Rights in order to benefit a charity for – now get this –
THE WARMONGERS
! (Who we totally support 110%, mind you!)
Rushlimbaugh.com
When "Dingy Harry" Reid and the U.S. Senate turned away from the business of the nation to instead smear a private citizen, forty-one of them sent a letter demanding the "repudiation" of their inaccurate interpretation of Rush Limbaugh's comments about Jesse Al-Zaid (a.k.a. Jesse MacBeth) and other "phony soldiers" who falsify their service. This letter was delivered to Mark Mays of Clear Channel Communications, Rush Limbaugh's syndication partner, and widely quoted in the Drive-By Media.

Up for auction is the original letter signed by 41 Democrat senators. This historic document may well represent the first time in the history of America that this large a group of U.S. senators attempted to demonize a private citizen by lying about his views. As such, it is a priceless memento of the folly of Harry Reid and his 40 senatorial co-signers.
THERE'S MORE RANT, PEASANTS! KEEP READING!
~
Limbaugh, as always, has made us look like children again! CHILDREN, COMRADES! And to add insult to an injured single mother of ten in desperate need to be subsidized, Limbaugh is challenging those Party members who signed the Party's papal bull to match the funds raised by this auction in order for us to "prove" our support for the warmongers! Can you believe that?
HE EXPECTS US TO MATCH THE FUNDS
! Outrage!
I for one am calling on all Party members – great and purged, rich and currently receiving government checks in the mail – to give a resounding NO to accepting Limbaugh's challenge!
THE PARTY DOES NOT NEGOTIATE WITH FREEDOM-LOVING, TROOP-SUPPORTING, IMPERIAL WAR-CRIMINALS! WE REFUSE TO SUPPORT THE WARMONGERS IN BOTH WORD AND DEED
!
With that said, let it be known that when we support the warmongering idiots we are of course doing it for votes - nothing more and nothing less. One dollar to the warmongers is another dollar being used to slaughter the Freedom Fighters™ and their quest to bring Sharia Utopia to America! Lip-service about supporting the warmongers is fine – but actually sending money to a charitable fund to help them? Never! Not on our conscience! And if we hear of one Party member sending money to this cause… well, you can go ahead and pack your crap and wait for the next cattle car to Siberia, you traitor!
EVERYONE HAS BEEN WARNED! NO EXCEPTIONS WILL BE MADE
(unless you're Hillary, of course).
Oh Stalin! I can feel my bowels loosening up as my outrage level peaks! Arrrgggghhhh! Ohhhhhhhhh! My undies, my fresh undies are completely soiled now! Damn you, Limbaugh! Damn you!
Currently sitting in a pant-load of his own revolution,
-- Chairman M. S. Punchenko

Premier Betty

I will collect the money that would be given if I wasn't against his filthy charity and keep it for someone who needs it more than the warmongers.  After all, I can't afford to keep all these stolen reclaimed priceless antiques insured without $$$.


Red Square

Chairman M. S. Punchenko
Limbaugh, as always, has made us look like children again! CHILDREN, COMRADES!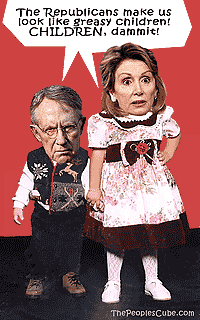 Premier Betty

At least we are still rich, spoiled children.  Darwin forbid if we had to come back as normal children and had to dress like them and go to the public schools we force them to go to.


Marshal Pupovich

I heard Tush Limbaugh say something the other day about plans he had for that momentous letter prepared by our peace loving minions, but never could I have imagined the sheer depths of depravity he has sunk to in an effort to subvert our precious useful idiots! It is indeed an outrage! Perhaps another more serious response is needed, such as a double secret Censure! That will show him! Nah nah nah nah! Little children indeed!


Commissar M

What is most shameful here is that, allegedly, 20 millions mindless drones listen to Rushitler each day. Allegedly, these "people" include not only meth smoking, inbreeding, christofascist trailer trash but also those with money and educations (hard to believe, I know). There is a very real possibility that these monied little hate mongers might end up bidding a considerable amount of money for this prized Party document, not out of respect but out of ridicule! This money will then be used to benefit veterans of the SS and Gestapo while Limbonehead continues to decry as "phony" members of the AmeriKKKan Wermacht who never actually served but never the less witnessed and participated in military atrocities before becoming Progressive and converting to Islam.

Again comrades, the christofascists are mocking and degrading the fine work of Commissar Brock, The Party and the Politburo, uh Congress in trying to rid the People's Airwaves of this contrary hate speech that so misleads the People. We must regain control of The People's Airwaves so that they are no longer confused by hateful right wing propaganda and come to once again understand that the only Truth is The Party's Truth!


Marshal Pupovich


Marshal Pupovich

Oh Comrades! I just discovered this video evidence that only cements this Push Limbaughs utter depravity and slander! This is not for the faint of heart Comrades! The abuses visited upon our many useful idiots in this "news" piece is almost too much to bear. Courage Comrades! Courage!




Komissar al-Blogunov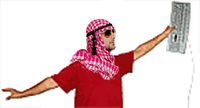 MacBeth is a good name for a backstabber.  Interestingly, it also resonates with Democrat male candidates whose wives will attack other candidates and conservative columnists.

Only someone with no association with the military could have missed the errors in his uniform in the saluting picture (not techno-savvy enough to place it here, but we've all seen it) such as the crooked beret worn sloping to the left (aha!) with no crest and the liner still in, no jump wings, a black t-shirt, needs a shave, and the sleeves rolled up improperly.  If anything, it shows the willingness of the Drive-By Media to seize on any opportunity to undermine this war effort.  This is also reminiscent of the forged Texas Air National Guard records used by Dan Rather.  So much for journalistic integrity!

Stay tuned, though, they won't give up!  Next will be Army SEAL Airman First Class Judd Ferguson who "witnessed" an endangered species of pig being roasted in a mosque or some such thing…


RedtheProgressiveFox

Great Stanlin!  It is up to $45,000 now!


Marshal Pupovich

I think serious thought needs to be given to purging every one of those senators who signed that paper, Her Empress excluded of course. For these "formerly useful" idiots have stepped in it big time and in their understandable yet misguided exuberance to attack the Bush lap dog Limbaugh, have instead resulted in heaps of amusement poured upon them, and financial support for war mongers.