Chedoh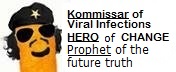 WASHINGTON, DC - President Obama announced that he is going to finally shut down Guantanamo Bay, keeping a promise he made back in January of 2009. As part of the Closure Plan, of the nearly 1,000 terror suspects currently held in the prison approximately 600 will be relocated to a maximum security prison inside the United States. Once they have completed their time, if they are not to be held indefinitely, they will be offered a U.S. citizenship and additional funding to help them get a decent start with a new life as a new American.
Expecting many Americans to be
outraged with this idea, the administration has been slow in disclosing its plans regarding the remaining
400
terror suspects, who are going to be quietly released onto U.S. soil and
almost immediately
provided with housing and welfare benefits. According to several insider reports, all of the homes on the list have been recently repossessed from military veterans of the Iraq and Afghanistan wars, who have difficulty paying mortgages due to injuries sustained in battle.

The military veterans in question used to own their homes under a mortgage through the Veterans Administration, which is a federal loan program. This effectively makes their homes property of the federal government, with little to no recourse to counter the presidential decision.
William Upton, a former helicopter pilot who served in the Army Air Corps flying a medic helicopter from 2007 to 2011, was one of the veterans chosen to be evicted from his home to make way for a former
Guantanamo Bay
detainee. In an interview to a reporter, Upton said this:
[indentr]
The very same day I learned they were shutting down Gitmo, I got a letter with a yellow slip from the VA. On that slip was an official notice that my home was being repossessed and re-purposed to house a former detainee. It said that this was another way I could serve my country and that I had until November 1st of this year to pack my belongings and get out. The bottom of the slip said that if I was still on the property by that time, I would be fined and arrested for trespassing on federal property. There was a non-negotiable check for $7,500 enclosed, but that's only a fraction of the value of my home and of what I already paid towards it.
[/indentr]
Soon after the publication of Upton's interview, the V.A. contacted
the former pilot,
saying that it was unfortunate he went to the press with his notice and that the time to vacate his federally owned home was more than generous, further stating that if he had an issue with it, the V.A. was equipped to deal with "unreasonable" and "difficult" veterans.
Once Upton came out with the news, more veterans followed his example in spite of the veiled threats from the V.A. One of them was Brian Knight, a former Marine who was disabled by an IED in Baghdad in June of 2006. According to Knight, who grew too emotional to complete the interview, the V.A. sent him a similar notice with the same eviction date. The V.A. letter also demanded that he take down the wheelchair ramp he had installed at the front door, at his own cost. According to the letter, the '
unsightly'
ramp was 'not needed' because the next occupant would be able-bodied. "They're giving my home to the very people who got me crippled," Knight concluded.
As of now
the Obama administration is set to
forcibly remove
nearly 300 veterans and their families,
many of whom have nowhere to go and could end up in the street if they can't find lodging with a friend or a relative.

As more veterans are coming forward to express their anger and the feeling that they have been betrayed by this administration, the federal government remains undeterred from its decision to move the Guantanamo Bay terror suspects into the homes
repossessed from military veterans of the wars in Iraq and Afghanistan.

Ivan the Stakhanovets

Comrade Chedoh speaks current truth, but leaves out key details: these guests of the USSA currently housed in government quarters at Guantanamo are in fact VETERANS of the war, and will be eligible for treatment at the VA clinic nearest to their new refugee relocation homes. Current US veterans will be shunted off to Obamacare physicians to make room.

As relocatees were technically still on active duty while incarcerated, they have accrued pay and benefits, and time toward promotion- (like Bowe Bergdahl was promoted up to Sergeant and accruing back pay).

And think of the glorious efficiencies of moving these new comrades to new hometowns across this country! Already loyal to the party, well versed in the ways of Sharia, as they impregnate their whorish neighbors and other local citizens they establish anchor babies and bring the rest of their wives and families!