Opiate of the People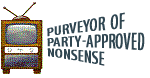 Constantine Supurfluous, as a 20-year civil servant in the Greek Ministry of Internal Document Movement, was looking forward to a pleasant retirement at full pay at the standard national retirement age of 55. Suddenly last year, the government informed him he would have to work two more years and retire at 57. "It's not fair!", said Supurflous as he helped set fire to an Athens fire station in protest. "I cannot stand two more years of moving documents! I have multiple repetitive-stress finger injuries, carpal tunnel syndrome and chronic paper cuts! I just want to retire and play cards!", he lamented. A fellow protestor added, "The government is always beating up on us! We are powerless!", as he pummelled a tourist who foolishly tried to extinguish the flames.
Commmodore Senator John Kerry, a member in good standing of the Rhode Island Tax-Exempt Yacht Squad (RITEYS) was stunned last year when he received a sales tax bill for $70,000 from the State of Massachusetts for the purchase of his new yacht, the Isabel. "I don't even dock my boat in Massachusetts, I just have a few residences there" Kerry mused. But the Massachusetts Revenue Dept. said that someone had called and informed on him and that there was nothing they could do for him, in spite of his many years of public service in the Army and later the US Senate. "They said I needed to pay the tax" a frustrated Kerry said over his morning wine and cheese. "Now I don't know how I'm going to make ends meet. I may have to ask my wife for my next year's Kwanzaa check early," the skipper said bravely. "I hate doing that but I have no choice."
~
Alma Mumbles, a speech teacher in the brand new Michelle Obama Elementary School in Barack, NJ, angrily recalls a public confrontation she had with new NJ governor Chris Cheapskate last year over teacher salaries and benefits. "He said to us that the state was broke and that he couldn't afford to give us a raise in our salaries or pensions, and that we would have to start chipping in for our health insurance as well. I stood up and said to him, 'I have a Masters Degree and a Doctoral degree! You're not compensating me for my education and experience!' And do you know that idiot had the nerve to say to me 'If you think you can get more money somewhere else, you're free to go work there.' I mean, the man just doesn't get it! Where the hell does he get off telling the people who work for him how much they're going to get paid? It's anarchy, I tell you! ANARCHY!"
What these fine public servants and millions like them around the world have in common is that they have all become victims of a bizarre mass hysteria which, for want of a better term, can be called "Taxpayer Extremism." The phenomena is characterized by an angry mean-spirited resistance on the part of private citizens to pay the cost of important public services, a mistaken belief that the cost of government is too high and a delusion that government performs functions less efficiently than the private sector. Although on the increase in the recent past, it is not a new issue. Experts say it has roots that go back to the founding of this nation with some even speculating the 18th-century American colonists' anger with the fair British tax system was the cause of this nation's 1776 split with Britain. However, most modern scholars dismiss this idea, asserting it was the British who wanted to be rid of the Americans because of their blatant Islamophobia.
Napoleon Krugman, universally respected genius and economic and political expert at the New York Times, says that Taxpayer Extremism is a form of racism, always present to some degree under the veneer of polite society, but one that manifests rapidly during hard economic times due to emotional stress and envy. "Taxpayers suddenly see themselves as victims", Krugman observes, "erroneously believing that the fairly-compensated public servants working hard on their behalf are the CAUSE of their problems instead of their benefactors. They don't understand that public servants do important jobs other people are not qualified to do, like moving documents, baby-sitting their children in state schools and running everone's life. For this, they deserve good salaries and benefits. When times get hard economically, taxpayers have to realize they need to dig into their pockets a little deeper to keep the people performing these vital services happy. They should be glad that the government employees care enough about them to help them and not complain about how much it costs."
Former NJ governor Jon "Moneybags" Corzine, defeated for re-election by Chris Cheapskate in 2009, blames demogogery and exploitation of Taxpayer Extremism by the latter for the loss of the office that belongs to him. "I spoke at a rally of public employees during the campaign and told them how I was going to fight for them to get increased salaries and benefits. I'm proud of my efforts in their behalf over the years. After all, what is a governor for except to stand up for his people against greedy private citizens who don't want to contribute their fair share to the running of society? But Chris Cheapskate used this against me. He made it sound like all I did in four years of running the state was to throw money at the public sector employees. I didn't just throw it, they had to come to me and make a good case for why it was necessary for me to throw it." Corzine, now back on Wall St as an undercover hedge-fund operator seeking to make sure widows and orphans are treated fairly, also alludes to one less-pleasant reason for his loss: "I think there was a lot of unspoken racist backlash in the vote. I appeared frequently with President Barack Obama and I think it was the racist taxpaying whiteys in NJ getting back at me for that. Now, go get me some coffee."
Ezra Klein, super-smart constitutional scholar at the Washington Post, blames the text of the US Constitution itself for our frequent historical bouts with Taxpayer Extremism. "The damn thing is so old", Klein tells whoever can bear to listen to him, "it was written like a hundred years ago when people didn't say exactly what they meant. So unqualified people read it and think that it means that they are entitled to decide what services the government will provide them and how much it will cost. They somehow think it says THEY are the boss, not the other way around. It don't say that at all. I mean, the words may say something like that but it's a mistake to think they mean that. The Constitution is not written in stone, it's a living, breathing, fluid thing like pond scum or molasses. It's always on the move. You can't pin it down. Today it may say one thing and tomorrow another. People just don't get the nuances an' stuff."
Whatever it's causes, the recent increase of Taxpayer Extremism is having an effect. Some pusillanimous politicians, frightened by the raucous demands of irrational taxpayers, withdraw from doing the right thing by increasing spending and instead reduce it, cutting vital staffing to the bone and reducing the salaries of those remaining to near-poverty level. Gibby Arrays, supervisor of a highway maintenance crew in Frozen Sneakers County, Minnesota, relates how budget cuts have reduced his staff to unsafe levels: "I used to have 10 guys workin' for me, 2 to spread tar and stuff and 8 adjunct supervisors, who watch the hot tar to make sure it cools correctly. The county made me cut my staff by 20% so I had to let the two guys who spread the tar go; they were the junior guys with the least experience so it made sense that they were the ones to get the ax. But now, my boss is mad at me because potholes ain't gettin' patched but I tell him I just can't get anything done with the 8 guys I got left."
Other politicians, such as Chris Cheapskate, have capitalized and encouraged Taxpayer Extremism to further their own selfish career ends and to hell with the noble public employees who get the short end of the stick. This approach may work for the manipulative executive in the short term but can have tragic repercussions. For example, after the recent blizzard in New York City, sanitation workers, tired from being overworked due to recent staff cutbacks and and weak from hunger because of the lack of sufficient meal allowances, could not summon the effort to plow a few streets in some outlying buroughs. Tragically, this failure resulted in some deaths. Floyd Grabbuck, union organzer and bagman, feels badly about what happened and blames short-sighted city politicians for not doing more to stop the many greedy deep-pocketed wealthy, who departed the city after its enactment of a surtax for millionaires, from leaving. "They coulda done sumthin', like flatten their tires or break their legs. They didn't hafta jus' stand there an' wave bye-bye. Those rich bitches, they took our raises wit' dem. It ain't right." Grabbuck, a proud public servant, also regrets the tragic fatalities: "Yeah, the city screws us, somebody dies and WE look like the bad guys. F*ck dat."
Happily, sooner or later Taxpayer Extremism outbreaks fade, either due to overwhelming taxpayer guilt over the plight of cheated public employees or the citizenry's unhappiness at the loss of the vital services they had come to expect. Either way, government spending will eventually resume its normal, natural exponential growth. But there is no way to come to grips with the human cost of Taxpayer Extremism: the card games not played, the smaller yachts purchased in place of larger ones or the extra 20 or 30 thousand dollars a year in salary and benefits for acquiring an advanced degree in a subject many people regard as useless. These are the unseen costs of Taxpayer Extremism. Congressman Charles Rangel, a long time respected legislator recently given a very hard slap on the wrist for failing to pay a few bucks in taxes over the years, commented "If only they could see the hurt and damage their lynch-mob racist extremism causes, maybe taxpayers in the future will think twice about making me pay all of mine." If only.

Comrade Whoopie

Public Service Unions hardest hit (To heck with women, children, the elderly and minorities)


Comrade Rasputin
Comrade, it's the bureaucrats that take all the rubles in these public institutions. They are always creating a new Commisar for this or that. Comrade Rasputin's 1st rule of Bureauocracy, the bureauocracy must survive. #2 it must perpetuate itself...3 and 4 then maybe sort of it does what it was designed to do. So most of the money, it goes to 1 & 2. (I have expanded on Comrade Weber's work) So little money is left for the workers that actually do what the institution was designed to do....but the Commisar of all the Agencies filing cabinets HE has a BIG salary!