Red Square

Another great show from the House of Sunny.

In Sunny's own words: "What would comedy be like if you HAD to buy it and the product was proscribed? Well, let's just say if you like your laughter, you can keep your laughter. To yourself."




COLOSSUS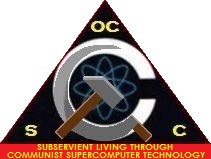 Margaret
I can't believe I had to pay six hundred dollars to watch that!


Callmelennie
We have to crack the joke first, to see what the punchline is


R.O.C.K. in the USSA



Whilst we're at it, I just ran into this on Twitter today - about the funniest thing I've seen in a long time! That woman totally rocks - love to have her for a next door neighbor :)