Kim Junk-Ill 킴정크악
I just went to a Alameda County, Kalifornia polling place to vote for a guy named 米特 prominently shown on my ballot, which by the way means rice special. Is the rice special, or is the price special? Tengo ni idea! I was hungry and needed fried rice so had to vote for him!Cool, I thought, I must have shown a lot of riceness to get that ballot, now when I got done, I looked around for a sticker to proudly show my part in the people's revolution, and there were stickers in every language you can imagine, including Javanese and Pigmese, but English was nowhere to be found. The poll worker was very kind as she did not want me to waste more time in pronouncing, "What are you looking at, NO English here!"We all know that English is the language of Imperialism and people's enemies, and it is such a joyous day of jubilee that finally in this county we have thrown its yoke off the people. No more English means no more oppression and no more profit-driven greedy kapitalistas. Let us celebrate and rejoice! I am sure next time, NO English will be allowed anywhere in the USS of A. Yeah!


Vrag Naroda

So my majoring in Arabic was a smart move then. Al-hamdu lillah!


yuri trotynov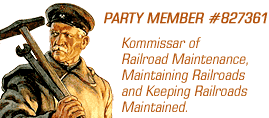 Comrade Vrag, If your avatar is any indication and you are of the hijab wearing persuasion, language especially Arabisch, will do you no good. Just uttering a few words may get your tongue cut out or even worse get you stoned (and not the good kind of stoned) in a country that is already circling the drain. Forward indeed, comrades!


Ivan the Stakhanovets

I fear Vrag is on to something important. Dear Leaders next acceptance speech may now be comfortably read in public from right to left as he was taught in madrasa. Ma'a salaama...


Ivan the Stakhanovets