Colonel 7.62

In another strange fit of Life Imitating The Cube, the White House IP Czar, has started asking ISP's, registrars, payment processors, and others to
voluntarily censor certain types of websites that may infringe on intellectual property.
Personally, I applaud this decision. We do not need laws, all one must do is simply apply the appropriate pressure in the appropriate places. Going through Congress is so damned messy, and executive orders are so pushy. But having a Czar sit down and kindly chit chat with private industry, and tell them what our Dear Leader would like them to do... that is so polite and friendly. They don't have to do it, but who could refuse a request from Dear Leader? Next, I hope that other regulatory Czars get in on the action. Imagine if Commerce started "suggesting" mandatory union membership for all workers. Why the possibilities are endless. I say we simply abolish Congress, now that we have the advanced system of Czars to direct things.

ThePeoplesComrade


Krasnodar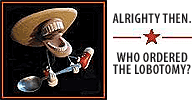 Colonel 7.62 ..........you are most correct. Obama's henchmen..........collaborators.........ah........helpers are of the upmost efficiency to do his bidding. The people and legislative process only get in the way. It makes me wonder how reactionaries out there can possibly draw parallels to past totalitarian regimes, when our glorious administration is so kind and polite in its initial attempts to exert absolute control of the media.

Raum Emmanual Goldstein
Hmmm…
One may assume (and please correct me if I am wrong) that since ALL property belongs to the state -- especially "intellectual" property -- that no website should post ANY content -- particularly the intellectual kind -- without first receiving the necessary approval from the Party.
Essentially, one should never have a thought unless it was first issued to them by the appropriate authorities
.
As such, lack of appropriate self-censorship on the web is clear evidence of treasonous THOUGHTCRIME against the Party and the State.
I will see to it that the Complete Circles of Life™ Bio-Chip programmers include "self-censorship" reinforcement code into the parameters. That will ensure the
proles
people retain their right to chose.
NOTE
: Requests for approval to post anything to the internet must now be forwarded to
[email protected]
no less than 30-days prior to posting (or 90-days in the case of postings involving campaign or campaign-related materials relevant to upcoming elections).

Comrade Whoopie

Bravo! If there is one thing we don't need it's some blog that let's any old prole register as a user and start posting text, pictures and videos taken from other websites.

And this in particular caught my attention:
But the truth is that some online pharmacies are simply "gray market" attempts to import drugs to the US from elsewhere where the identical drugs are sold for much less.

This drug pricing gimmick has been a redistribution of wealth from American consumers to third world countries for decades. Ironic that it's the capitalist drug makers who are behind this scheme. Of course they reason that they price their drugs on the buyer's ability to pay. As a result, Americans have been gouged so people in poor countries can get a discount at our expense.

We need to stop websites from importing drugs from foreign nations, reselling them to Americans and pocketing a profit. American's don't need to save money, we need to give it away, especially to people who are our sworn enemies.