spectrum sanitizer

Kevin Jennings, Safe Schools Czar
Turn ons: Pedophilia, Daycare centers, NAMBLA
Turn offs: Heterosexual adult relationships, America
Looking For: "Someone with kids"
John Holdren, Science Czar
Turn ons: Eugenics, social engineering
Turn offs: Man made energy, oil, technology, mankind, civilization, America
Looking For: "A hippie chick, preferably driving an Escalade"
Cass Sunstein, Regulatory Czar
Turn ons: Wildlife, population reduction, forced abortion
Turn offs: Hunting, fishing, mankind's existence, America
Looking For: "No one, I want to reduce the population"
Rahm Emanuel: White House Chief of Staff
Turn ons: "Anything that can up my status"
Turn offs: "Anything that can bring my status down," and America.
Looking For: "My soul"
Barack Hussein Obama, U.S. President
Turn ons: Socialism, Marxism, Islam, community organizing, hating America
Turn offs: Criticism, scrutiny, evaluation, a true free press, America, Israel.
Looking For: "The ghost of Karl Marx, so I can hug him"

ThePeoplesComrade


Congressional Add-On


Nancy Pelosi, Speaker of the House of Representatives
Turn ons: Who is asking please?
Turn offs: Who is asking please?
Looking For: Power, Votes, Supporters, An Audience


Comrade Putout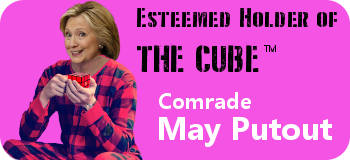 A White House Dating Aid
A half-dozen of these 'brewskies.

Fraulein Frankenfeinstein

These are all lovely progs. I just don't know why they have no found anyone? What is not to love. (a girl can get all sweaty just reading their bios. I AM SPEAKING IN THE VERNACULAR.. or whatever. I AM NOT SPEAKING THAT I, THE FRAU, AM SWEATING!! DO NOT BELIEVE THE LIES YOU HEAR!!)


Mrs Al Czarweary

Turn Ons: Black Panthers, Social Justice, Miranda Rights/US Trials for Man Made Disasters
Turn Offs: US Constitution, Equal Justice, States Who Write Their Own Immigration Laws, America
Looking For: Someone to pardon

Comrade_Tovarich

Comrades,

Thank you for the Nancy Pelosi addition. I got so excited I almost thought I was going to have to transgress sexual boundaries for a moment there!