Obama

Nerve!
Who is this Senator Byrd?

Look,
I really don't want "Czars"
, I want 'Ssars, you know, as in Ebonicspeak for "Commissar".
Don't they have 'ssars in West Virginia's 'hoods? If not, it's about time!
And why do they call him "Sheetz"? Is he into boycotting Seven Elevens?
And what's this crap about him being Fleegle?
You'd think that if you were a Banana Split, you'd be cool?
Listen up Fleegle!
It's time for you to retire!

Laika the Space Dog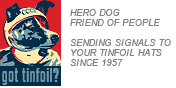 Out of Karacter....
Well, well, well....what have we here?
As the old saying states "Payback is a bitch"
The last paragraph of the CBS hit piece tells all:
"These days, however, Byrd's comments have less force as he is no longer the chairman of the powerful Senate Appropriations Committee. "

HUH? No longer Chairman? When did this happen? The Greatest Pork Barrel ever conceived in US History has been passed and The Greatest Pork Barrel Pork King has stepped down from his Chairmanship voluntarily on January 6, 2009?
Daniel Inouye is now the Chairman?
This is the most powerful chairmanship in the Senate and did you hear a peep of this
Change
at all?
I didn't.
I thought it was business as usual.
Voluntarily? No fanfare?...C'mon, I know bullshit when I hear it.
Voluntarily my ass.
I'd believe that a Mime would shit out a tumor in Janesville, Wisconsin and be cured of cancer in less than a month before I'd believe that POS lie.
Hmmm....?
Let's see, this isn't exactly a youth movement, is it? Inouye is what, 85?
Well, ...Byrd gave lukewarm support of Obama
after
Hillary crushed his O'liness in the primary and then WV went for McCain by more than
13 points in the general election
.
Then there's that Klan Kleagle business, the Civil Rights Act filibuster, "white nigger" and playing a Confederate General in
Gods and Generals
....etc...etc...
Funny that George Allen would be roasted and slammed by Dems for his part in this excellent historical movie....not a single unkind word about Byrd.
Well, it looks like all of that is going to
CHANGE
.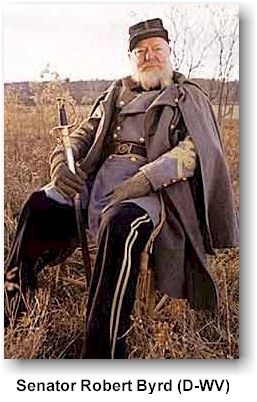 Yes ladies and gentlemen, it's payback time.
Let's not forget where those birth records are sealed also....
I'm sure Senator Inouye
(D-Hawaii)
has that all under lock and key.
Look for
The Daniel Inouye Hawaiian Lei Museum
in the near future.
Ironic that the CBS hit piece is under the title
"Political Hotsheet".
Maybe Byrd just had his starched and pressed?
Yes, Senator Byrd, to everything there is a season....Turn, Turn, Turn and Change, Change, Change