Colonel Obyezyana


jackalopelipsky

20 years ago, 'pelipsky enjoyed a visit with an art dealer. The dealer invited me to attend the exhibit, but time didn't allow. But our conversation quickly boiled down to work ethic. Just getting the exhibiting artist to commit to attend the Dealer's scheduled event to promote their own work was a hardship. The artists had contempt for potential buyers, who they are, and what they do. Utter contempt, 'pelipsky is synthesizing here.
We already have a government that loathes us.
This magazine cover has contempt for what constitutes the American
œuvre
.
Just like the artists 20 years ago, angry because they have contempt for art purchasers who value the artist's work enough to purchase it. It showed contempt for the dealer working to exhibit their work in her gallery. The dealer was confused and frustrated because it was a beautiful exhibit, as we both concurred, and the exhibiting artists thought it an imposition to attend their own gala?
American work ethic œuvre has been in serious decline.

Kapitan Kangaroo Kourt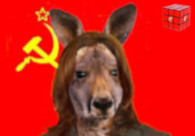 This reminds me of a Wizard of Id comic......

Wizard: Sire, the peasants are revolting.

King: I know.


Colonel Obyezyana

It's a Woke World After All



Genosse Dummkopf

↑ GRRREAT! Will retransmit it to the (few) Wokistani in my orbit.


Colonel Obyezyana