Dr. Strangelove
Dr. Strangelove
Direktor of Flashing Lights, Shiny Things, Bobbles, and Cinematography
Ministry of Agitprop
"Gentlemen, you can't fight in here! This is the War Room."

Solidarity 9-6347

This is wack, y'all. How come these homies aren't spittin' bars about the terrorists Bush and Cheney, killing cops, dealing drugs, LeBron James, slapping bitches and gang-raping hos, drive-by shootings, 28 inch chrome rims on your Escalade, stealin' shit, Cristal, tappin' ba-donka-donk booties, ditching your pregnant girlfriend, 2Pac, cappin' snitches, molesting women in da club, pimpin', and overall just being a thug? You know, the kind of messages The Children™ should be listening to, not this garbage. (And whatsup wit those clothes? It's like they have jobs or something. Puleeze!)


Dr. Strangelove
Word, Comrade Solidarity. Now all we need is C2G Marxist to come back and leave a comment. Where are you, Comrade Pul?!


Commissar_Elliott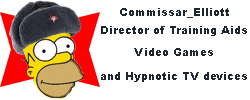 Leave it to those neocons at YouTube to post this garbage. Looks like we missed a few comrades.

(off)
What are those socialist at YouTube doing, posting this good stuff? Looks like some one got past their filter system.

**Update**
I have to hand it to these guys, this is worth listening too. Bravo!