Red Square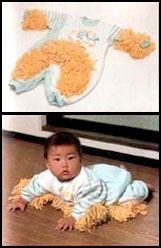 Premier Betty

Now your baby can clean up after itself. While you're passed out on the couch from drinking too much, your child can learn to burp itself and then wipe it up by crawling over it! This is a great example of how teaching children at an early age that physical labor is more important than learning can help create a perfect society where everyone works for the, um... stuff....

Chicked
The amazing baby labor costume! Your child won't even know he's cleaning up after himself. Not advised to use on carpets, hand wash in cold water only. Baby not included.


WillyC
Now your baby can go flying across the room ... a running start required.
Available in adult sizes too.

sallyxi
How cute! :)