Red Square

Dear Leader enjoys occasional low-level attention from the little people.

Ivan Betinov

"Ha! Her lips feel just like a guy's!"


R.O.C.K. in the USSA
No, really, they're there - you just gotta look for 'em a bit!


Proletarian Robot

"Just set my Mojito on her flat head and drinking them doesn't make me gay!"


Opiate of the People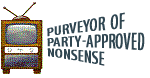 "Oooh, this reminds me of the time I met Larry Sinclair."

Or how about:
Obama accepts congratulations from a prominent MSM journ0list.

Or maybe:
Obama salutes the flag, Alinsky style.

Possibly:
"Mr Taxpayer, just swallow it and be glad it's not Barney Frank screwing you this time."

Let's try:
"Wow! Now I know why Michelle makes me do this to HER!"

If not one of those:
As he promised, President Obama is working hard to create more jobs for Americans.


ThePeoplesComrade

So this is the meaning of "is".


General Confusion

A new survey reveals that women are less expensive than men in this industry.


Comrade Loaf
JFK, Bill Clinton and Rep. Weiner all agree: the Democrat Pary is the best choice for womyn!


Comrade Loaf
I can't wiat for another Spitz One Act Play.
But don't forget John Edwards this time!


Comrade Loaf
That competition crap is all bad, see what the Chinese Communists did to the American Communists' dreams of Solyndra? How are we to get to utopia that way? Where is the Communist armed civilian army that rules instantly by group conscience without judges, courts, juries and lawyers when you need one to tell the Chinese to BACK OFF?