Red Square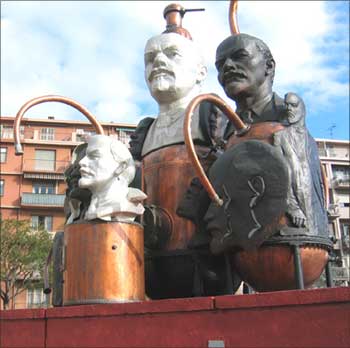 Premier Betty

What the f#%k???
(First!)


Dr. W. S. Palimpsest

Communism is like the Hydra of Greek mythology.  You cut off one head of Lenin, and two grow back in its place.


Premier Betty

I don't know if that's good, or just plain freaky...

Ollie Abbot
So this is how a liberal think tank looks like...


Red Square

$$ Halliburton's feeble attempt to build a liberal-friendly gas station -

ILL-CONCEIVED COMPROMISE!

PittsburghProletarian
Hell, these are real common around these parts, especially in all those hollows down in West Virginia. That's Grandpaw Vlad's Red Lightning Moonbatshine still. Couple a sips of that likker, and you'll be barking drunken socialism before you can count to ten. Goes fer about $5 dollars a mason jar, $10 bucks a jug.


Steve the Pirate
Kommissar Putin attempts to tap glorious brain power from brazen images of the Great
Lenin
to strengthen his Collectivist Spirit.