Red Square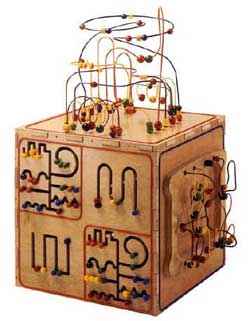 A Fellow Traveler.
It looks just like a Chenorator!


Komrade Koz
Dude, Al invented those things?? AWESOME!! I used to play with those damned things all the time as a wee lad when I went to the doctors office (who had about a hundred of em).

They are education devices for children. Look at it: beads of many colors comming together from different directions and angles to form on solitary community that thrives for a singular goal. It makes me cry komrades. :)

Kommander Kenneth
Idiots!

It's a Kirov XE2 3rd generation Flux Capacitor, the essential component to Al's time machine. Just like "Love Story", "Back to the Future" was based on Al's years as a scientist at MIT (Marxist Institute of Technology). Being bored after he invented the Internet, he created the time machine so he could go back in time and re-invent things, a hobby he still enjoys to this very day. Soon everything will have been invented by Al. I shitteth thee not!


Premier Betty

It looks like a combination of all the great inventions from the video game Ratchet and Clank Going Commando. The devices it is composed of are:
-The Crotchitizer
-The Personal Hygenator
-The Tiny Tot's Slingshot
-Self Wegifying Underwear
-The Nuclear Mousetrap
-The Lawn Ninjas
He must have added the best of everything together!


Leonid Fuku

Clearly, this is the ultimate device -- the EQUALIZER. As a child moves the beads, he/she is genetically analyzed and altered to within one Adenine molecule of the Societal Norm. This machine offers total equality for all!

Foilhat
This is progressive gun lock to keep children and operatives safe.

Comrade Eric
Looks like a fool-proof voting machine to me! On the top there is a place to choose your vote, and in the back there is a little slot that produces little cards with a check mark in the "Gore" box virtually every time, regardless of the actual vote! This invention should be statndard issue during the next elextion, as long as we modify it for "Klinton."

DirectorAgitpropCenter
Comrades!

Whoever revealed this most secret device shall be exiled to Maggydon forever!!!
FIND THE TRAITOR(S)!!!!
Neighbors -turn in your neighbors, comrades -round up your fellow comrads, children -rat at your Mummies and Daddies - AT ONCE!!!!

This is none other than -

The Media Historical Revision and News-story Concoction Machine -

invented byAlGrr and donated for use by Chief -Agitprop Operations of the NyTs and DnC (with money grant from family friend, owner Accidental Oil Monopoly, Armend Hammer -the most succesful American capitalists to have a seat on the Polyburo Board of Dictators - (not to be confused with Arm and Hammer and Sickle))!!!

Remove this image and destroy all related info AT ONCE!!!!

Main Central Unit Director Agitprop Center

SMERSH
MISSING PROSESSOR FROM CHERNOBYL PLANT MUST BE RETURNED TO NEW IRANIAN PLANT


icanhasbailout