Jíbaro


What does the following image conjure in our Kollektiv minds?


Commissarka Pinkie

Mmmmm . . . half-moon cookies!


Ivan Betinov

Hillary's thought bubble: "Wow...Woody was right...the young Asian girls are fantastic!"


Ivan the Stakhanovets

"Ooooh it IS chilly in here!"


sarahls
Immelda, I just love your shoes!


Safety Over Freedom!
"I feel your pair."


PolPotLuckSupper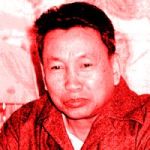 The only thing I can think of is the vomit in my mouth.