Red Square


Red Square

... or is he kicking an invisible ass?


General Confusion

"aka Obama" practices marching the goose step,
His golf game is about as good as his marching,
Those feet are the size of snow shoes.


Major says Great Shoes!


Kommissar Brainiac

Curiously like the dance the Greek Evzone Guard performs. Perhaps this is a sign that he secretly wishes he could take credit for the destruction of the Greek economy.


General Stabbin

Now where did I saw this same step once?

Oh Yes, my former german comrade used to do this "great step" joke.

*looks at the skeleton with a funny moustache hanging from the cage at the center of the office*

Ahhh... ...those were the days...

*lays back on the chair and sips the coffee*


Commissar_Elliott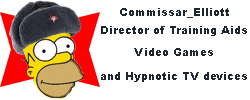 Maybe he just stepped in some goose poo.


Red Square