Commissar Obamissar V

Ok Comrades,
The Real Men of Genius parodies were all different kinds of popular, especially since each different PPC had different versions specific to that PPC. For example, when I lived in the PPC of Hawaii, "birth place" of The Obamessiah (sound of the retching wino, the poorly tuned ukulele, the soliciting Mahu, and all MUST bow down)
hope I got that right DDR
, we had Mr. Moped super-upper.
Many can be found
HERE!!!
Anyway, what if I told you proles you could take a break from your shovels just long enough to type one of these up for the Cube. It can be about The One, Bawney Fwank, The Porkulus, Faux News, The Mime- hell, it's all up to you. You have to do all the thinking while digging and complete typing within 4 minutes, but that's more of a break than you usually get.
Commissar Obamissar Vodkavich
Commissar of Obamissars, Gulags, and Car Wash Products
Not to be confused with The Criminally Insane Vodkov

Commissar_Elliott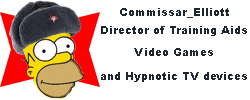 Here's one for the Cube.

"Bud Lite presents, 'Real Men of Genius'

(Reeal Men of Geeeniuuus)

Today we salute you, Mr. Cubist of the People's Cube
(Mr. Cubist of the People's Cube!)

You love highlighting liberal absurdity, but you took the creative way, by joining a group, more leftist then them.
(Communism!)

Creating a profile of some Russian Commie, you took on a different persona, but have a subtle undertone.
(Steganography!)

You'll confuse people on both sides of the aisle, because they won't bother to read your post carefully, and boy will they feel stupid.
(Really Stupid!)

So crack open an ice cold Bud Lite you Creative Conservative, because you are the voice of the Right.
(Mr. Cubist of the People's Cube!)"