jackalopelipsky

JackalopelipskyRose sending this lyrical hooliganism directly to the mythical soul of the MASS Hooligan of Karaoke - Groucho Marxist.

Prisoned as you are, in constant solitary -- the original quarantine for life in the age of Corona -- just hoping for some mold on the bread for a divergent trip to somewhere else...like CHAZ Pan Alley!

forelock tuggin' mythical heart strings,
'pelipsky





Went down to CHAZ Can Alley
See what was goin' on
Things was just shot down there
Wouldn't stay very long
Hey hey hey hey
Alley's the f*ck'dest place that's ever been
All the people down there
Livin' Saul Alinsky, whines, and grins

I heard a woman scream
She said, "f*ck America's shores"
CHAZ cat was tokin' mar juannie it a
Lord was a two-by-four
Hey hey hey hey
Alley's the f*ck'dest place that's ever been
All the people down there
Livin' Saul Alinsky, whines, and grins

I heard a pistol shoot
Yeah and it was a .44
Somebody killed 'nother CHAZ looter
Cause he just want t'take, battle, and roll
Hey hey hey hey
Alley's the f*ck'dest place that's ever been
All the people down there
Killin' for Saul Alinsky, whines, and grins

I saw a cop standing
Shakes his head at this dung
Said, "This needs some Raid boys now
Lord, this ain't fun"
Hey hey hey hey

Alley's the f*ck'dest place that's ever been
Yeah, just Walk Away CHAZ alley
Lord and get your life back to life without fear


The Ghost of Red Rooster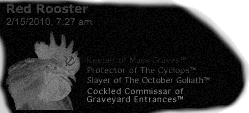 Thank you comrade! We see you been postin' here sista or brudder, whatever yer prefered acronym NOW is. It's for THE PEOPLE COMRADE! Keep up the work for Common Good™!!!
Shhhhh....
A LITTLE SOMTIN SOMTIN FROM THE PARTY!™!!!

jackalopelipsky

FROM THE PARTY?™

Party Favors never seemed to good...it's like 'pelipsky could start livin' like Hunter Biden all of a sudden - a world where FAVORS cost child support from stash of hidden Party Favors.

God Bless AmeriKKKA!!!

For Common Good!™

always, comrade, always.