Groucho Marxist





Our little gulag is down the road
We got a new chef two days ago
Maybe we'll like him, maybe we won't
I wonder
He cooks in the back of this little kitchen shack (Where's my money?)
Picking his nose in the serving line
We think he's crazy baby, hey
The stove is his ash tray, hey
Today he's choking chickens, no way
He cooks alone
He steals the rations I know
For catering, oh no
Chef Che' Gourmet

Little bitty, Lenika very upset
She's on a diet of rotten beets
Eating roaches and eating rats
I know she was, eeew
So her guard says
"Hey we got a new chef, You got Money?"
Now he's slipping hot dogs between the bars
Ain't that crazy baby
Now she complains
That mustard's never present, no
Bangs on the door
I know that she just begs for more
Gulag catering my friend, say
Chef Che' Gourmet

[Instrumental Interlude]

He'll serve all the proles
With a gulag smile, hey baby
Here have some seconds and sneeze on the next one
Oh, yeah he's crazy, yeah
All I can say, ay, hey
Of one thing I am certain, ah choo, ah-choo
Fresh meat is road kill
Covered with flies and ants
For catering comrade
Chef Che' Gourmet

Hey now, Chef Che' Gourmet
Flambe' Chef Che' Gourmet
Yeah, Chef Che Goumet
Oooh that's granola Chef Che'
Oooh that's granola Chef Che'
Have more ah have mora, next time
Devine (Oooh that's some more ah, Chef Che')
Chef Che' Gourmet
(They're gone, They're gone, They're gone)
Chef Che' Gourmet, Vodka
(We're morons, we're morons, we're morons)
Chef Che' Gourmet, Vodka


Che Gourmet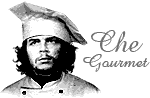 Comrade Groucho,
I am touched that you would rise so early to compose this little ditty just for me.
I will treasure it always, and by the way, when were you down at the People's Original Hell's Kitchen last? I'm still missing a few knives.......???
very interesting? I didn't emphasize the word missing, above but it is now,and it's underlined. If you click on it a GOOGLE advertisement comes up! What's the story here, comrades? Sabotage! I say!
Now the word GOOGLE is coming up and the missing is normal???? ACK!!! I'm going to .....
.spits and storms out of the kitchen, muttering under his breath....dear Koba, help me!

For real, why is this happening, or is someone just creatively editing for Che'?

Groucho Marxist

Thanks, What's for dinner?

The knives? We aren't allowed knives in the gulag....


Zampolit Blokhayev

*sniff*