Red Square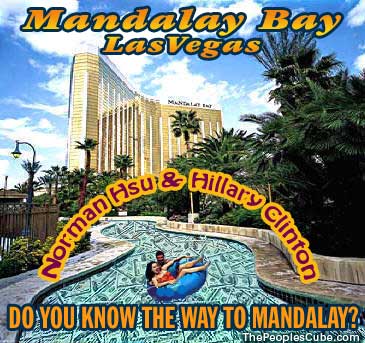 Music by Burt Bacharach
Lyrics by Hal David and Laika the Space Dog
Unforgettable performance by Hillary Clinton and the All-Hsu Band
Do you know the way to Mandalay
Do you know the way to Mandalay?
Hsu's back from Hong Kong. I may go wrong and lose my way.
Do you know the way to Mandalay?
Roulette, cards, and broads on Hill's tab at Mandalay.
Bundling is the laundering way
Jump bail, skip town and run real far.
In a week, maybe two, they'll forget who you are
Weeks turn into years. how quick they pass
And Hsu came back and no one cared
Hill's campaign staff had a Vegas blast
Do you know the way to Mandalay?
Hsu's got a ton of cash. there'll be a place where I can play
I got drunk and stoned at Mandalay.
I'm going back to find some OPM* at Mandalay.
Fame and fortune are a magnet
They can pull you far away from home
And if you get caught you're all alone.
Dreams turn into dust and blow away
And there you are, Hill's not your friend
You board Amtrak and ride away
They've got lots of slots at Mandalay
Do you know the way to Mandalay?
Gonna play Blackjack at Mandalay..
__________________
* OPM = other people's money
BACKGROUND:
(From the KGB files)
New York Post: Members of Sen. Hillary Rodham Clinton's campaign staff got a nice payoff last year for their work to get her re-elected - a trip to Las Vegas funded by her fugitive former fund-raiser.
Among the Sin City guests of disgraced former fund-raiser Norman Hsu was Patti Solis Doyle, one of Clinton's most trusted advisers who now runs the senator's presidential campaign.

According to The Los Angeles Times, Hsu - who raised more than $850,000 for Clinton before being jailed last month on charges related to an investment scheme - treated the senator's campaign staff to several days at Mandalay Bay in Las Vegas, complete with free show tickets and dinners at posh restaurants. Doyle was accompanied by two junior staffers and a New York-based fund-raiser, the report said.

In April 2006, Hsu provided a hotel stay in Las Vegas for two other campaign workers. Doyle also received a coveted and pricey designer handbag from the disgraced moneyman, the newspaper said. But she returned it.

The red-faced Clinton camp insists there was nothing illegal about the trip, according to the article, and stressed that Hsu never received any legislative favors in return for his generosity.

Clinton last week returned the $850,000 Hsu raised, but not before taking a political beating on the fund-raising fiasco.

Hsu went on the lam a couple of weeks ago after missing a California bail hearing, but was arrested in a Colorado hospital after witnesses said he was behaving erratically aboard a train bound for Chicago.

Hsu remains locked away in a Colorado jail.

The Clinton cash came from about 260 individual donors Hsu brought into the Clinton fold, some of whom never knew they were contributing to the campaign. Hsu also contributed at least $330,000 to state Democratic candidates and state party committees and ballot initiatives during the 2004 and 2006 elections.
LA Times:
A manager at the Red Square bar at Mandalay Bay, where Hsu took the Clinton aides, said he was known as "a very friendly guy" who was nice to the staff.

Red Square

If we use the image above as the album cover (vinyl or CD), we should put song titles on it too.

We already have

- Good Morning Hsu Shine
- Winkle Paw Patch

We can also add -

- Hsu Are You? (Hsu-Hsu, Hsu-Hsu)
- Hsu Let the Dogs Out (Hsu, Hsu, Hsu-Hsu)
- You Know Hsu (Is Doing You Know What)
- Hsu's Gonna Ride Your Wild Horses
- Hsu Knew
- Hsu'll Stop The Rain
- Hsu's Tha M.F.
- Hsu Wants To Live Forever
- Hsu's The Boss
- Hsu's The Man
- Hsu Got The Funk
- Hsu's Down
- Hsu's Cryin' Now
- I (Hsu Have Nothing)
- Bab`s Uvula Hso (Green Day)

Any others? We'll use the greatest hits. Songs with baggage are preferred (Oldies but goldies), but good modern ones will do if they are widely known.


Ivan Betinov

How about

--Keep Away From a Runaround Hsu
--Hsu-u-u-u Send Me (An Anonymous Wad of Cash)


Premier Betty

The pool in that picture looks a lot like my pool... but with less ca$h. I wonder if they have been watching me... oh, wait, of course they do. Everyone is monitored by the party. How foolish of me.


Marshal Pupovich

Ah, let's not forget the title for Hillary's cd....

Hsu's Next


Laika the Space Dog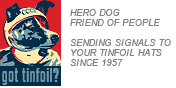 Hill, Hsu Really got me know..
Hsu know I can't sleep at night...
Hsu really got me
Hsu really got me

Hsu and me and a Dog named Boo.


Red Square

Hsu Shine Boy (by the Jackson Five?)


filthywhitemaleheteropig
Dear Comrades, it is time for serious talk. Please substitute your favorite vowel for the *.
Is this f*cking b*tch crazy? Her and her *sshole husband/wife/whoremonger are trying to give this country away! I am not a Bushater, but what the f*ck is he up to? First we are going to build a fence along the southern border, but now we're going to allow trucks from meh-hee-ko to drive on our highways all the way to canada! They don't have to do brake or safety checks on the trucks, and may not even be insured! But we have to let them do it to keep Vincente Fux happy! Who the f*ck cares if they're happy? If they are'nt, they can go the f*ck home!
Now I'm hearing rumors that CONGRESS wants to invade Iran! CONGRESS???
Why don't they make up their f*cking minds? All the pissant crybaby countries that are not as good as the USof f*cking A are crying that we are imperialists. Fine. Let's show the c*cks*ckers some imperialism. First WE want war reparations from every country we have had to attack because they attacked us first. Then we want to be paid back for helping weaker countries defend themselves. Then we want all the foreign aid we've lavished on the world paid back with interest. We can start with the sh*thole our people are fighting for right now called Iraq! We get out of the whole country except for a small part of the southern coast where there are some oil wells. HEY GUYS! Guess what? This is OURS now because you c*cks*ckers OWE US! Hey Dub-yuh! Get that fence finished down there and let's start throwing the illegals back over the border with a tribochet! Out of work? Can't find a job? Thank the Republicrats. It's time to overthrow the 2 party elitist system!
VOTE THIRD PARTY OR KISS YOUR COUNTRY GOODBYE!


Zampolit Blokhayev

Hsu Rock This (Mystikal)

--
ZB