Callmelennie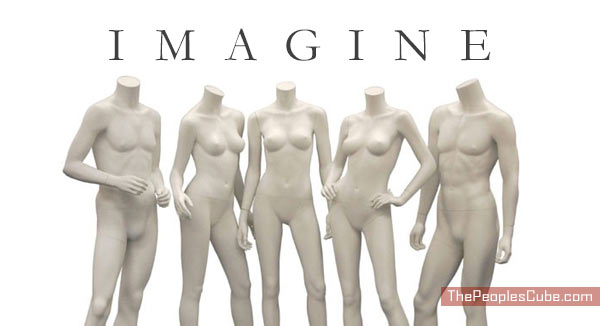 Imagine there's no reason
It's easy if you try
No rule to guide us
Allowed to only cry
Imagine all the sheeple
Cowering in space

Imagine there's no courage
It isn't hard to do
No one to kill or die hard
And no deterence, too
Imagine all the people
Turned to spots of grease, You-hoo

You may say I'm a queefer
But you're not the only one
I hope someday you'll join us
And the West will be undone

Imagine no aggression
I wonder if you can
Shahids to kill and plunder
A mangine-hood of Lambs
Imagine all the sheeple
Surrendering their world, You-hoo

May say I broke up Beatles
But I'm not the Yoko one
I hope someday you'll sing this
And the West will be undone

Red Square

Imagine headless people...
In fact, the Western progs had begun to behead themselves metaphorically long before the Jihadis showed up to speed up the process in a very literal, un-IMAGIN-ative way.

Minitrue

"Daddy, why did everybody keep voting for leftists back then?"
"I don't remember, honey. Now put your headscarf back on, we have to go stand in the breadline."


Callmelennie
Now that I have your attention, Comrades .... You will need to hang on tight to your tin foil, non-vaginal thinking caps for this next one, as it will get a little complicated

What I am asking you to do is to imagine the "Imagine" that John Lennon WOULD HAVE sung if Winston Churchill had used the message of "Imagine" to guide him in 1940, after the Fall of France. I imagine that this "Imagine" would have sounded something like this

Imagine there's no ceiling
It's easy if you try
No flooring below us
Above us cloudy skies
Imagine all the people
Shivering in a hole

Imagine there's no Navy
It isn't hard to do
Nothing to fight the U-boats
And no RAF, too
Imagine Jewish people
Taken to parts unknown .. you-hoo

You will say I'm supreme-ist
But I'm not the only one
It's too late for you to join us
Cause our world has been undone

Imagine no possessions
I wonder if you can
Nothing to stave off hunger
Degradation of man
Imagine fascist monsters
Conquering all the world, You-hoo

You will call me a racist
But i'm not the only one
It's too late for you to join us
Cause our world has been undone