The Navigator


ONE: Single Payer System

One single payer system thats what we intend to get
One single payer system perhaps not all of it yet
Something that Bill and Hillary could not do
Well just abolish illness with you-know-who

One single payer system everybody gets their share
But well never have to ration care, no way son
Hell, folks he can heal the planet
Disease, well, well simply have to ban it
Cause hes the one

One single payer system like our neighbors the Canucks
One single payer system but ours will be real deluxe
In one fell swoop were solving the health care crunch
Whos says that we dont believe that theres no free lunch

One single payer system lets do it for Uncle Ted
Pretty soon hes dead, its time to get it done
This is change you can believe in
Trust me, you know we aint deceiving
Cause hes the one.

One single payer system might be kinda tough to sell
One single payer system wont leave it up to Michelle
Harry and Nancy you folks can calm your fears
And hell get coverage that will fix those ears

One single payer system covers every healthcare need
No time to read the bill just pass Obama Care
But it sounds a little socialistic
This pig is gonna need some lipstick
Obama-care


Comrade_Tovarich

The soothing sounds of Hope™ and Change™. Thank you!


Stalin for Time

Most equal, comrade! The visuals help explain Obama-Care so well, I'm not sure why there is such a bother over reading the bill.


Guitanguran
In the interest of solidarity, one may want to hear from Trotskyite Bob Dylan. The message is subversive, but we must not fear the bourgeoisie's feeble attempts to sway us!
http://www.youtube.com/watch?v=zSVyFJdaGAI

Red Rooster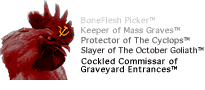 Comrade Jill
One single payer system lets do it for Uncle Ted
Pretty soon hes dead, its time to get it done
And so it is, Wednesday August 26, 2009, Comrade Ted Kennedy has died.
Rest In Peace.

The Navigator
Yep, he's gone. RIP.

His dream was Nationalized health care for all --except our great leaders in DC. We should pass it for that reason alone. The Party may change the name of Obama-care to Kennedy-care. I'm torn on this. It feels blasphemous to place anyone above The One. Yet, the emotional and over-the-top tributes of Sen. Kennedy in print and TV convince me that a Canadian/British-style health system would be an outstanding memorial of his life's work. Fifty years from now the sick, the mentally disabled, the elderly, and The Children who survive to their 18th birthday will look back and curse praise his name.


Red Square

The health care reform shall henceforth be called the Chappaquiddicare!

Politruk Schadenfreude

I am very sorry comrades. I can not my self allow to listen fully this toe tapping, how they say... little ditty? It is too full happiness and give feeling like sunshine and lollipop candies. It bring smile and happy which I can not permit for me while my countrymans suffer in agony like they show on speech tonight during big begging for mercy program. They put on happy faces and try to be brave but they still suffer greatly. Their sacrifice is too much for me to bear with smile and happy times.

Maybe some day I get okay feeling to watch and be happiness.

I think a song by Cat Stevens, I mean Yusuf Islam, maybe is okay. It should be well with current depressions and bipolar sickness.