jackalopelipsky




You were the prince of Bill's sex fantasies
You paid all the Clinton's parking meters
You encouraged Bill's eating of sweet dreams
Now who would suicide Epstein for me

You talk to lawyers
You ask 'gonna last the week?'
Book gave list to all
And gave list to law
You're obsessed with hiding
From shivs and blows
To feel the unknown
Don't feel like home
Don't feel like home

You put Bill's feet back on hot ground
Oh, did you know you brought this all home
Yeah, y'thought you were safe and you were sound
Who can save Jeffry

You're the sand in Bill Clinton's breeze
You're the diaries in Bill's alibi key
You just drew the last black jelly bean
Now who would suicide Epstein for me

You put Bill's feet back on hot ground
Oh, now you know you brought Bill down
Yeah, y'thought were safe and you were sound
Who'll save Jeffrey

You put Bill's feet (back on hot ground)
Oh, didn't you know they'll send you (home)
Yeah, y'thought you were safe and you were sound
Who can you trust if
You can still bring Bill down 'n down 'n down
'n down 'n down 'n down
Yeah yeah oh oh
Don't bring Bill down
Yeah yeah oh oh


Red Square

A beautiful song, sung by one of Jeff's 14-year-olds, no doubt.

"You're the sand in Bill Clinton's briefs..." - that's what I call "poetry in motion."


Red Square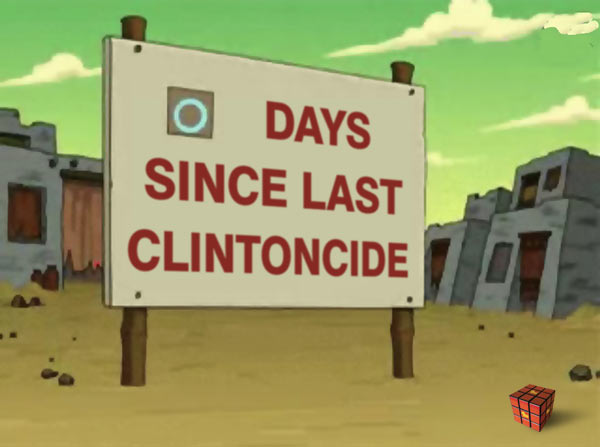 jackalopelipsky

..forelock tug, Red Square, for praise for poetic beauty of Karaoke...boy those pesky diaries are messing up a lot of Mamat Principle - Liberals have to pretend they don't know...change ';elipsky's mind...


Callmelennie


Through morning prison lights I see
Imminent wrath of Hillary
The pain that will be dealt to me
I realize and I can see

That Arkancide is painless
It leaves the Clintons blameless
And they can break and deal it as they please

The Pedo Isle's a wacky thing
So many charges they can bring
My losing hand will make me swing
Cause otherwise I'd have to sing

That Arkancide is painless
It leaves the Cliintons blameless
And I can take and bleed it if they please

The only way to squelch is kill
And lay them out before they spill
And to the others cause a chill
Cause that's how Clintons force their will

That Arkancide is painless
It leaves the Clintons blameless
And they will leave you hanging in the breeze

And they can break and deal it as they please