El Presidente



It's been seven hours and fifty days
Since they wheeled our Ruth away

I go out every night and search all day
Since they took our Ruth away

Since she's been gone Trump can do whatever he wants
Take away my right to choose

I can shout at dinner in a DC restaurant
I can curse and scream at that Ted Cruz.

But nothing compares
Nothing compares. Where's Ruth?

It's been so scary without her here
While court sessions just go on…

Nothing can stop these lonely tears from falling
Tell me baby what could be so wrong?

I could put my hands around every Republican neck I see
But that'd only remind me of Ruth. (ahhhhahhhhh)

I went to the doctor and guess what he told me?
Guess what he told me?
He said "girl you really are quite dumb.
No matter what you do. You are a fool"

'Cause nothing compares
Nothing compares. Where's Ruth?

(…….sad missing Ruth music)

All the dissents that she's written mama
From the left card
All die if she goes away
I know that Amy Coney Barrett will be so damn hard
Or Trump will nominate another white guy

'Cause nothing compares
Nothing compares. Where's Ruth?
Nothing compares
Nothing compares. Where's Ruth?
Nothing compares
Nothing compares. Where's Ruth


Groucho Marxist




We lost our plans and schemes
And we lost our hopes and dreams
We-We-We don't have anything
Since we don't have Ruth

We don't have fond desires
And we don't have happy hours
We-We-We don't have anything
Since we don't have Ruth

We don't have happiness and we guess
We never will again
When Ruth croaked out on us
In walked Amy Barrett
And she'll be here till when?

We don't have Mao to share
And we don't have one who dares
We-We-We don't have anything
Since we don't have

Ruth, Ruth, Ruth, Ruth
Ruth, Ruth, Ruth, Ruth
Ruth, Ruth, Ruth, Ruth
(Ruth )


Callmelennie


They will never say where she done went
Fifty days dont matter to the Dems
While the Court's in dock
Or at the SOTU talk
No one knows ... she doesn't show

Goodby Ruthie Ginsberg
Who can know the state of you
When no show with every new day
Still we got some questions

Dont question about her recent surgery
They'll tell you that there's nothing there to see
They just cant explain
As to why she's made no gains
Or if she's lost .. at such a cost

Goodbye Ruthie Ginsberg
Who does know the fate of you
When no change with every new day
Think there's stuff amiss here

There's no need to fret, I heard them say
Chase that squirrel before it slips away
Lying all the time
Lose your Court and you will lose your minds
Ain't Don unkind

Goodbye Ruthie Ginsburg
Who can know the state of you
When no see with every new day
Know there's things amiss here

Goodbye, Ruthie Ginsburg ......


Callmelennie
At least now we know where Ruth is


Groucho Marxist

Democrats are ruthless


Googie
She'll have to fend for herself now. No rest for the wicked.


Red Rooster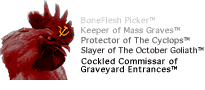 We will be checking your credentials comrades.