Nevermind
First of all i would like to preemptively state my apologies for not have taken the time to look trough the forum before posting.

The reason why i came here to take some of your time, is that i am in search of good books to guide me through this capitalistic desecrated nation.

Once again i am sorry for the inconvenience(since i didn't even know where to post a threat like this).

Sincerely,
Nevermind


Boris Badanoff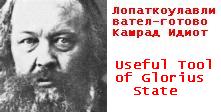 I hereby order you, under Party directive, to purchase and READ this book on how best to overthrow the Capitalist pigs in the USSA!
http://www.shakedownsocialism.com/
You are also, as a new thoughtcriminal to this Collective™, to report to the nearest Karl Marx Treatment Center for your re-education, free first Jiffi-Lobo, and recieve your State-issued shovel and ticket to gulag for retraining.
Oh, and as said before to others, be sure to pack/wear some warm clothes and bring some food. The guards will be hungry!

ThePeoplesComrade

Here is my all time favorite movie ...
... a must see
It extols the glorious rise to power of our heroes to the south.