Konservative_Punk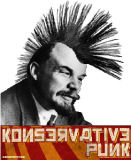 According to a UK Telegraph Article:
http://www.telegraph.co.uk/news/worldnews/europe/russia/11434565/Russia-promises-manned-flight-to-the-Moon.html
---
Russia is planning to resume their Lunar Landing Program that was scrapped 45 years ago. They plan to have a Russian Cosmonaut on the surface of the Moon by 2030. It's surely better to be late than never, even if the pause lasts over six decades. The resumption of this program is just another example of our long-suffering patience triumphing over the bloodthirsty kapitalist system, whose voids shall be filled with the equality of outcomes we all deserve. The Amerikans may have gotten there first, but our leaders will make certain that they are not the last. The selfish Amerikans planted their own flag in 1969, and this act of greed should be rectified upon the arrival of our Russian brethren. Equality dictates that by the planting of flags from every nation on Earth, or a single flag that represents all of humanity, Mother Russia will finally restore justice to the solar system.