Laika the Space Dog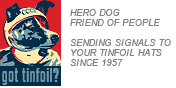 Comrades!
As we all know, The Chairman has been neglectful of his Politburo duties since June 21st, 2009 (Year 99 Juche Era).
During this serious absence, the party has suffered near fatal setbacks
HOW THE HELL ELSE CAN YOU EXPLAIN 76% DISAPPROVAL OF THE OBAMESSIAH?
http://post.polls.yahoo.com/quiz/quizresults.php
What if the Mime™ finds out about this poll?
This is a serious breech of Voter Counting and as we all know, making sure ALL VOTES are counted properly was Meow's purview.
There have also been rumors that he failed his duties in the Honduran election.
The question remains; where is he?
With serious sadness, I have to announce,
let the backstabbing begin.
Please form a circle and draw your pistols.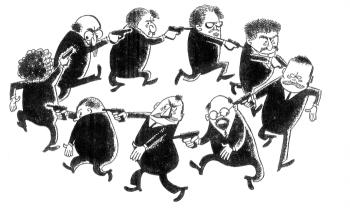 Laika

General Mousey-Tongue

Yes Comrade Laika, these polls imply that all votes are cast equally. That is a most disturbing thought.

What is more disturbing is Punchenko's complete absence from the collective. Excluding some bizarre accident or religious conversion, I am most concerned about re-establishing the Chairman's, er, political reliability.

Of course comrade, in the absence of his strong leadership, agressive and ambitious party leaders will attempt to exert their influence to improve their position. We must be extra vigilant of such behavior to preserve the common good.


Laika the Space Dog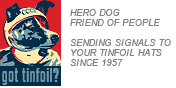 Hmmmm...?
Seems the poll and the Chairman have disappeared.
Could there be a counter-revolution to the revolution?
There's been a rumor that he's fielding the emails at
[email protected]
Maybe he is doing his job?
We'll just have to follow the money.....and the hookers....and the booze.....and the blow....and the Hummels.

Red Rooster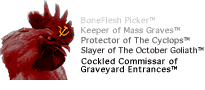 Yes comrades the poll is gonzo, AND all polls found through Yahoo say yahoo for The One.
The Chairman must be doing his jab, er... I mean job.
I am happy to see Sociali.... (*looks down, grits teeth, thinks of korrekt phrasing) , I am happy the government can still take over the oil companies.
I did notice a slew of brothels springing up around DC, perhaps the Chairman's Obama Loot™ is getting a hoot!
On further note, and with profound consideration, I think
comrade Mousey Tongue killed the Chairman!
Or perhaps it was Commissar Elliott's troll....
[URL=https://thepeoplescube.com/red/viewtopic.php?t=4054]https://thepeoplescube.com/red/viewtopic.php?t=4054
[/URL]

Sir Red Star(The Naughty)

Comrades, I am glad to see the concern over the Great and Powerful "Obumbles", Jimmy the Dumb Carter is thrilled as he is no longer the absolute worst President in history.

Next the dumb trio, Obumbles. Poloski, and Reidless, will focus on the world of next Tuesday, or at least Free Ice Cream Thursday....

Commissar Red Star CEO Hemlock Hospitality® INC
The Kind and Lovable, Green Commissar
Director of Kicking Doors at Midnight
Keeper of the sacred Plasma Cutter
Herdsman of Rainbow Farting Unicorns
Defender of the Faith