Red Square

THE FAN HITS THE SHIT
As an Iranian mullah swears that everyone in Iran lives in peace and comfort, the fan crashes down on his lying head.
See the video at the link above.
EMBEDDED VIDEO NO LONGER AVAILABLE

Colonel 7.62

ROTFLMAO!


Commissar_Elliott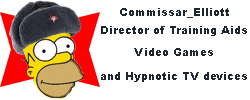 I denouce the fan! Some prole should of done a better job of installing it. Now this clip serves as some four second laugh machine for stupid conservatives.


Grigori E.R.

I'm thinking this is the work of Allah. The Holy Book of
Islam
the Qur'an says:
"If Allah were to enlarge the provision for His Servants, they would indeed transgress beyond all bounds through the earth;
but he sends (it) down in due measure as He pleases
. For He is with His Servants Well-acquainted, Watchful. "

Vrag Naroda

In Islamic Iran, fan hits YOU!