Red Square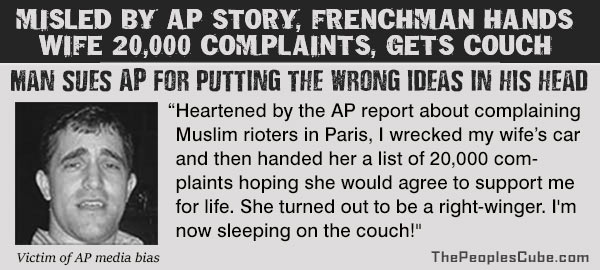 Claims that Associated Press editors habitually slant facts in AP stories have recently been substantiated by a complaint from an AP writer whose
report on last week's demonstrations in Paris
was changed to a complete opposite of what she had written.
"When they changed 'Muslim hoodlums' to 'disaffected youths' I thought they were improving on the sentence flow and prose styling," says AP reporter Ellen Stanley. "When they changed 'violent gangs' to 'violin fans' I thought they were making a joke. When they changed 'assheaded socialist policies' to 'inspiring government programs' and 'appeasement' to 'solution' I thought they were being sarcastic. Taken together, however, all these small edits changed the meaning of my report in its entirety.
Paragraphs "touched up" by Associated Press editors:
PARIS - Hundreds of youths from the poor, immigrant suburbs that erupted in riots last year marched through Paris Wednesday to present a collection of 20,000 complaints to lawmakers and urge the disenfranchised to make themselves heard with a vote, not violence.

The events came ahead of Friday's first anniversary of the riots by disaffected youths from the housing projects where people of Arab and black African descent live outside France's big cities. Despite an influx of funds and a glut of promises, disenchantment and anger still thrive in the tall, cinderblock towers that make up the housing projects in the troubled suburbs.

While politicians on the left have called for more government programs to integrate poor youths since the riots, the leading presidential contender on the right, Interior Minister Nicolas Sarkozy, has sought to crack down on crime and immigration and echoed slogans of the extreme right.
How it was written originally:
PARIS - Mobs of Muslim ingrates who should be in jail after last year's uproar, had the nerve to march through Paris today with a list of 20,000 complaints. Isn't it nice to come to someone else's country, live off its dwindling wealth, and march the streets with 20,000 complaints about it?

Did they also bring 20,000 job references from employers who praised their skills and motivation? Or 20,000 applications to register businesses that would provide employment and services to their neighborhoods? The march was held to encourage Muslim youths to vote instead of "blow stuff up and burn things" (BSUBT) which is their usual way to comment on social issues.

While common sense would dictate many of them should be arrested and deported immediately, these hoodlums freely marched through Paris and demanded that the government of the city they torched last year do something about the fact that they feel the need to BSUBT.
---
Tom Curley, president and CEO of The Associated Press, has been an outspoken advocate of the unbiased liberal orthodoxy.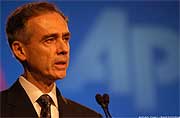 "If conservatives had enough brains to form objective opinions they wouldn't be conservatives, now would they?"

---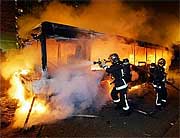 AP spokesperson first blamed the incident on a Microsoft spell-checking program that had replaced misspelled words with somewhat unexpected choices. When reminded about the suspicious ideological consistency of the errors, he conceded that Ms. Stanley's report might have been slightly altered "for compliance with AP policies of unbiased liberal orthodoxy."
"Ms. Stanley is young and has much to learn about progressive values that make responsible journalism. We have already signed her up for a corrective training program that uses electric shock therapy to teach aspiring journalists like her to write from an open-minded perspective of the strict socialist dogma."
Conservative critics may argue that the media's job is not to indoctrinate the masses and present an ideologically filtered subjective version of reality, but to give us reliable information that will allow us to form our own objective opinions. To which their opponents in the media respond that apparently there's not nearly enough indoctrination, otherwise conservatives would not be allowed to voice their stupid opinions about objective reality.
More examples of AP editor's tampering:
---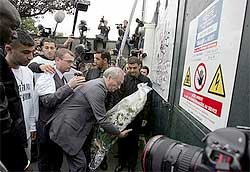 AP Caption:
Socialist mayor of Clichy-sous-Bois in the northeast Paris suburb, Claude Dilain(C), lays a wreath at the entrance of an electrical sub-station where two teenagers, both of immigrant background, were accidentally electrocuted as they hid from the police a year ago.
Original caption:
Deranged leftist mayor comforts rioting hoodlums and provides legitimacy to their fake grievances. In his twisted utopian brain he believes that empty promises of unearned government handouts will turn Muslims into Marxists. In reality he is only asking for more violence and destruction.
---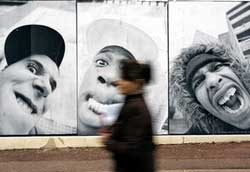 Original caption:
Immigrants scare the French
AP Caption:
The French scare immigrants
---
Other reports AP editors have touched up over the years:
---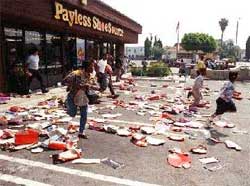 Los Angeles, 1992:
Disaffected youths voice their concern about social issues.
---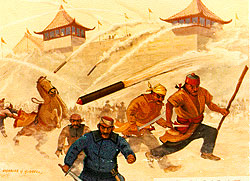 China, 1232:
Hundreds of youths from the poor, immigrant suburb of China called Mongolia, ventured out to protest against the bourgeois values and urge the disenfranchised to make themselves heard.
---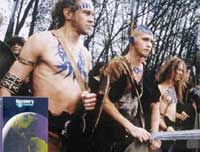 Roman Empre, 455:
Disenfranchised youths from the poor neighborhood populated by Vandals get organized for a social protest, sack Rome.
---

Laika the Space Dog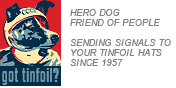 What about September 1939?
Disaffected immigrant youth protest Polish mishandling of native immigrants in Danzig and shutting down disaffected immigrant radio stations with cross border armed raids.
Stalin and Hitler agree with a bilateral immigration into Poland.


Chairman M. S. Punchenko

I am personally offended at being called "biased" all the time, I really am. I am also disappointed that the MSM keeps giving us smoke and mirrors to hide the fact that they are biased. Lets just be honest, we are all socialist, we do not like AmeriKKKa and let us all show it in how we cover the news. AP has done a courageous thing by coming out of the closet and showing their partial pride!


Commissar M

I don't think the French have anything to worry about from these disaffected youths. Western Europe's typically flacid... uh, nuanced response to these situations has historically led to greater strength, unity and progress. Just look at Germany in the post WW1 era or even Russia in the glorious post-Bolshevik Revolution era. Revolutions and popular uprisings almost always lead to great stability and centralization in the end.


Premier Betty

Tom Curley looks like some kind of anorexic stick-man.


Commissar M

Premier Betty
Tom Curley looks like some kind of anorexic stick-man.
Well, he is really just an example of the evolving New Progressive Person.
Note his simliarities to this model of the ideal final form of the NPP:
New Progressive Person

Joanc57
Tom Curley was a former child model.  He posed as Alfred E. Newman when he was 11 years old.


Kommissar Vodkov

France is a shining beacon of what a Republic of
Islam
can be. They are showing us the way to the future. The white Christian oppressive imperialistic population of Europe must be purged. Publishing inflammatory stories in the media will only alarm them and this "tampering" is therefore necessary and justifiable. Do we spook animals before they are slaughtered? I think not!

General Ivan
Hey what about state sponsored vodka stores on every corner as a good start to liven up the culture war we-we....


Adnan Hajj
Some of the French youths: