Guardian of Pravda

Tuesday week would be good. I have a Golf game this weekend. Need the Carts.


Commissar Obamissar V

Comrade Red Square,
This one's for you:

Red Square

Commissar Obamissar V - where did you get that t-shirt? I hope it wasn't taken off a dead pedophile's body.


Commissar Obamissar V

Comrade Red Square,
While I do advocate killing pedophiles (their version of sexual equality is NOT change I can believe in) that's not where I got it.
The phrase (and I'm sad to report I know this) comes from a very Progressive R&B song about milkshakes.
-
http://www.youtube.com/watch?v=rZ-FAV9fBII
Embedding disabled by request

embrace your guilt
This is absolutely brilliant.


embrace your guilt
I've got a story from France in the mid '60's. My Dad started a telephone test equipment company that also made telephone security equipment... Hackers back then were into stealing long distance phone calls. Well, my dad was working through an interpreter at a trade show. A French official asked what my Dad was selling and my Dad said "Telephone security equipment". Upon hearing the translation the Frenchman burst out laughing. My Dad was upset and asked the interpreter what was so funny. Through the interpreter the Frenchman said " In France we have perfect telephone security... you can't make a call!".


Red Square

Occasionally I see the joke about the 6 contradictions of socialism in America reposted as a graphic, in various forms, on various websites, and the only thing that they all have in common is the lack of attribution.
Just yesterday, it was posted as two lemon-colored graphics on a blog run by Allen West. I emailed the editor and she added our name and a link to the Cube (than you!).
Six conundrums about socialism in the U.S.A.
Anyway, I'm glad it's getting additional exposure. Just in case, a screenshot:

Red Rooster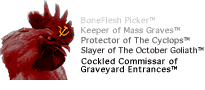 Let's do the Time Warp AGAIN!

Guardian of Pravda

Rocky I knew ya!