European Socialist
The new comrade
This is Matthias Platzeck. He is the new head of the Social Democrats of Germany. His party, the SPD voted for him with a 99,4% approval rating. But he is also very popular in the polls. He is now the most popular german politican. He is number 1 in the polls. Look at http://onnachrichten.t-online.de/c/62/0 ... 07082.html and then click on "

Ergebnisse des ZDF-Politbarometers

".
You can visit his party at http://www.spd.de/ . There you can congratulate him for his big success.

Premier Betty


Very Large Bear

[quote="Premier Betty"]Here's a better way to spend your time:
[url]http://www.freewebs.com/republicofsock/[/quote[/url]]


Oy.


Premier Betty

Hasn't been updated in a while. Republic of Sock has been inactive for several months now that the Head Lumberjack, Military Dictator and President for Life have all left the skool.


Commissar_Elliott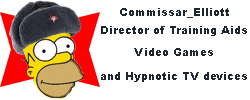 I wonder why he's so popular poll (eye's roll).