ThePeoplesComrade

We must give Omar Tarazi, the Islamic supremacist who represented Rifqa's parents in Florida in a failed attempt to force her to go back to her fundamentalist home, credit for
trying to silence an Enemy of the State, Pamela Geller
. But we must also question the wisdom of attacking such a person with an exchange of verbiage. Remember the old adage, "Never pick a fight with someone who buys ink by the barrel".

Fraulein Frankenfeinstein

It is outrageous that she was not
forced
allowed to go back to the peace loving parental units. She needs her full grounding in the basics of fundamentalist radical Mooslimics. Why, it is unfair to keep her from home!
Just look at these wee ones, all dressed for halloween fun. And now, she has missed out. I spit in denouncement.
spit spit

Sugar Daddy Bear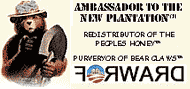 Fraulein,

Those pictures are absolutely adorable and very trendy!

That Omar fellow should be whipped 99 lashes (with a rattan) and then thrown into the gulag to rot for being such a greedy, kapitalist PIG! Just think how far $10MIL can go to benefit the Children™ !