Genosse Dummkopf

Romanian dictator Nicolae Ceaușescu's last speech captured on video. His shock at seeing the people rebel against him is similar to that of today's Democrats after Trump's win.
The 5 seconds:
a self-deluding organism, imagining itself a Ruler Of the Coming Decades, is shaken from its parallel universe onto the ground of less ebullient reality. See it happen at 2:40; better yet, watch from the beginning to appreciate the buildup.
Watch the full 10 minutes for the look and feel of the Eastern Bloc exploding.
TIMELINE: Romania, 9 days of December 1989.
Dec. 17: protests in Timișoara
Dec. 18: Securitate [secret police] + military start shooting, dozens dead
Dec. 19: the news spread (by grapevine + Radio Free Europe), riots break out across the country
Dec. 21: Bucharest, Conducător's speech from the balcony of the Party Central, booed and aborted, heavy riots start in the city
Dec. 22: Conducător (still in Party Central) again attempts a speech, enraged crowds storm the Central, Ceaușescus flee from the roof of the building in a chopper, military refuses orders to quash riots; also...
Dec. 22: chopper must land, Ceaușescus try to flee in a flagged-down car, get caught and arrested, passed to the military
Dec. 24: drumhead court-martial is decreed
Dec. 25: improvised trial, death sentence to both, execution on the spot. It was a kangaroo court. The only other alternative would be a lynching by the mob.
And don't miss the
Kubic
peek
into
Romania.
The grim and surreal kangaroo court has been documented
here
(about 7 minutes).

Captain Craptek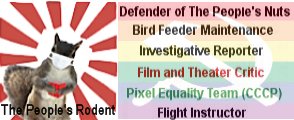 Commies have never figured out how to handle their money. I guess that's why they always want us to give them more. Too bad, cause when we run out of money they get real mad at us - then we have to kill them. So confusing -


Red Square

What? In that speech he promised everyone to raise their salaries from 2,000 to 2,200 - and they still killed him? Perhaps if he were to promise them $15/hour minimum wage, he'd still be alive and in office.
Modern leaders have learned from Ceaușescu's mistakes. Bernie promised $15/hour. Hillary promised $12/hour. And yet, the ingrates elected neither of them. This is going against everything we know about collective greed and identity politics. Whatever happened to this world? Can a socialist dictator get a break?

Genosse Dummkopf

Red Square
What? In that speech he promised everyone to raise their salaries from 2,000 to 2,200 ... ?
tcha... Conducător braggadocioed in lei (at that time, 1 lei ≈ 0.9 cent, 200 lei ≈ 180 cent*).
Mr. Loon and Ma'am Doom tried to dazzle masses with US$, pathetic coin of dying kkkapitalism.
Maybe Soc-Führers should switch to true proletarian means of spreaduction?
Ruble? Renminbi? Drachma?
*
sure, sure - official prices were also on "lei scale". unfortunately, supply was on "low scale"...

Red Square

Genosse Dummkopf - they did, and here is the evidence. They offered 15 rubles per hour and good jobs, but not many believed them...

Genosse Dummkopf

On another note :
alias :
(a) yet another proof how totalitarian systems tend to embrace and promote mediocrity*, down to art (becoming official "art") ; the rule is simple : the closer an "artist" to the center of power (and be it just money), the worse and more panegyric his "art".
(b) on the "What the Art of Painting is NOT" subject, the above oeuvre shovels 350% norm, full Stakhanov.
* exceptions apply, for sure (but that's another chapter, and a rich one).
add-on :
The SCEPTRE thing is shortly explained
here
.
The coat of arms on the sash is of course this :
looking like just yet another Soviet Socialist Republic.
(and yep, Romania has substantial oil reserves ; Venezuela-2000 much resembles Romania-1980)