Komissar al-Blogunov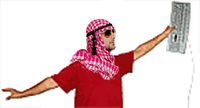 Hello -
As a Senior Advisor to the President, I'm here in Cairo, Egypt where civil liberties and their standard of living are the envy of the world where I watched President Obama deliver an appalling unprecedented speech calling for a new beginning in which we willingly subject ourselves to our enemies and apologize profusely for combating evil in the past and defending ourselves in the present for the United States and Muslim communities around the world.

We all know that there has been tension between the United States and some Muslim communities you know, like the guys who drive airplanes into our buildings. But, as the President said this morning, if all sides face the sources of tension squarely and focus on mutual interests Hope! Change! Death to Ah-mer-eek-a!, we can find a new way forward (our staff is working around the clock to determine just which way "forward" is - we'll let you know when we know).

The President outlined some big goals for this new beginning in his speech -- including disrupting, dismantling, and defeating violent extremism Remember the DHS report we had to rescind that identified pro-lifers and veterans as terrorists? That's who we're talking about. It was a historic speech, and since many Americans were asleep at the time it was given weird - the same thing happens every time Kerry gives a speech, too we wanted to make sure you had a chance to see it:

Majority-Muslim countries around the world are filled with extraordinary people Khomeini, Khadaffi, Osama bin Laden, the Taliban to name just a few who simply want to live their lives and see their children live better lives, just as in Afghanistan 10 years ago America even better yet, without an America. Indeed, part of what makes America great is having nearly seventy thousand seven hundred thousand seven million Muslim Americans living here today and enriching our culture and communities even insisting that our communities receive such enrichment, so generous are these people.

We can extend that kind of relationship abroad. Just think of every place socialism and weak diplomacy have worked before! It won't always be easy there are still dissidents to intimidate and purge, but if we make an effort to dismantle everything our nation was built upon and the means to defend it bridge our differences rather than resigning ourselves to animosity C'mon people! Stop overreacting to so called terrorist acts and threats already!, we can move toward a more peaceful world under Sharia law over time.
Thank you,
David Axelrod
Senior Advisor to the President

Dr. Strangelove
The speech was a smashing success all throughout the Middle East!
Diannesky
HAIL, fearful leader! It is a THRILL to live at your beck and call. We ever await your instructions for CHANGE. At your servitude, SIR!

Lao Lang
Don't forget the one who shouted "We love you!", although I think it may have been edited by the audio staff from the original "We want to make love to you!" Dear Leader did have a BIG smile when he responded with "Thank you!"