Karl Marx Treatment Center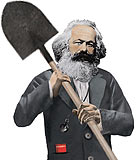 The Biden administration is proposing the cradle to grave institutionalization of American life. This is the entire purpose his presidency serves. To institutionalize us.
Socialism doesn't simply create an elite, an aristocracy of power and poor people. It creates a society of people suffering from institutional syndrome. This is it's power. It institutionalizes people in the very worst sense of the word. People suffering from institutional syndrome don't want to be free. They want to live in the institutional setting that let's them live without having to exercise the responsibility needed to govern their own lives.
This is socialism's real appeal. This is what the democrats plan for America. To institutionalize us all.
And we all know what happens when someone fights back against being institutionalized. We just went through four years of witnessing one man standing up to it.
The institutionalization of America must not win.
Institutional Syndrome [from wikipedia]:

In clinical and abnormal psychology, institutionalization or institutional syndrome refers to deficits or disabilities in social and life skills, which develop after a person has spent a long period living in mental hospitals, prisons, or other remote institutions. In other words, individuals in institutions may be deprived (whether unintentionally or not) of independence and of responsibility, to the point that once they return to "outside life" they are often unable to manage many of its demands it has also been argued that institutionalized individuals become psychologically more prone to mental health problems.



Doctor Obama
This is why we need ObamaCare. Wear two masks and call me in the morning.
--Doctor Obama

RedDiaperette

Ah, but we maintain our aura of free choice: One man person voting entity, one vote, one time.

("One vote" is to be taken metaphorically, of course, since all ballots are subject to being reproduced and repeatedly counted until the korrekt results are obtained. This is known as "reproductive health" of the ballot.)


Genosse Dummkopf

Karl Marx Treatment Center
The Biden administration is proposing the cradle to grave institutionalization of American life. ...
Remarkable, how
that
sturm-and-drang, um, spreads (transatlantically).
We have it here in Germoneystan (which - for now - is DDR 2.0 in the making), too. Single steps were already taken over the recent two decades, massively trampling on (German or/and EU) laws, rules, and recently also on Grundgesetz (German post-WW2 kinda Constitution). But now, since early 2020 (=Covid!Covid!Covid!), it goes blow on blow. And not just in Chermany, but "all over" Europe, especially in the EU realm.
(around April/May 2020, I really saw all that coming, and - as it turned and still turns out - seldom was I so korrekt in foresight)
Certainly there is no "one Big Westwide Plan" dictating and coordinating the sudden rush towards the
cradle to grave institutionalization
of "masses". But surely there is a swarm-activity effect from all the networking of background "functionaries", and sure as hell there are hundreds of thousands of them. And just as well, over the recent years, hundreds of millions of backrooms and closed-door conferences (micro-, mini-, and mid-sized).
(alas!, the sudden wooing-&-cooing of BigGov by BigBiz, plus Public-Private-Cooperation the

Klaus-Ernst Stavro Schwabfeld vay

)
And then, swarm effects:
gubmints (local and central) eyeing - and then imitating - each other
locally testing "how far can we go with this-or-that, mini-stepwise"
and surely there is also (envious!) eyeing of Great-Leader-PongPing's means (plus dreamlets of goosestepping along Red Dragon's ways).
Yeah, CoV-2 is manna from red heaven, marxsend. All those planetary swarm-activity summits (
Health
,
Pandemic
,
Vaccines
, ...), increasingly frantic over the recent decade, the induced "mental preparation" and "operational wokeness", they weren't for naught.
Corona-2019:
Way better
than the "climate" scare - which, though already a full-blown mass cult (installed in the late 80s, cultivated since the early 90s, now ingrained westwide, and superficially kowtowed to by [the "elites" of] the rest of the "planet"), is a long-term thing, and so "broad masses" aren't
sufficiently
panicked.
Whad, climate?
(mostly

→

)
sheesh...
But - corona? jejjsusss-marijjja! we-will-all-die!! waaaaahhhh-waaaaahhhh-waaaaahhhh!!!
à propos "trampling on Grundgesetz", a freshly baked sample:
Just a few days ago, German SCOTUS, using a shyster-loupe, found that our "Constitution" of 1949, jawohl,
compels
ze Cherman Gubmint to keep ze Planet's warming below the holy 2° C (3.6° F) - indeed, better yet 1.5° C (2.7° F) - as commanded by (and here SCOTUS invokes, dead "seriously") IPCC, "Paris", and the scientifically identified one-and-only planetary knob regulating "our klimate", the CO
2
.

Genosse Dummkopf

RedDiaperette
... One man person voting entity, one vote, one time ...
In my recent nightly flyover of our West-Planetary Cuckoo's Nest, I spotted your most equal agitprop as it superimposed an older transmission, crawling out in slo-mo from an equally famed heap.
(whad? "older transmission"?
here
)
L

ONG

L

IVE

A

GIT

P

ROP VIA

R

HYTHM

―

F

ORM

―

R

IGOR

!
uh, slo-mo?

(2009..2017..2021)


wasn't it time-lapse?

('21..'21, spanning a centennium)


(it depends upon what a meaning the time-twisting twists)
Mystery item No. 1

RedDiaperette

Memory of pre-institutionalization appears to have been destroyed on a large scale. For example, I keep reminding covid-crazed people of our 2018 flu season -- only three years ago -- when almost everyone we knew had some form of the flu, including what we then called "the 3-week flu" (Influenza B) and the "long-cough flu" (3-day illness followed by 3 months of bad cough). We all got sick, I keep saying, and virtually all of us recovered, and we didn't shut down the whole economy or cower in our homes or behind masks. People stayed home when they were sick and resumed normal life when they got better. People helped sick friends rather than shunning them. Illness was taken as a normal part of life. "Don't you remember????"
And they look at me as though I'm the one who's crazy. They've forgotten. The past has been completely wiped out. It not only has ceased to exist but never existed.
What is this talk about "institutionalization"? All is normal; all is as it should be; we have always been at war with Covid; the government is your friend.

Genosse Dummkopf

(while at that...)
RedDiaperette
... "reproductive health" of the ballot ...
To be unyieldingly guarded by boundlessly flexible not-yet-written laws*! And then staunchly defended
by our.. it's a.. it's a.. you know the.. the idea. Yes
- continued Dear Premier Cho -,
when I talked to them, and they.. they rubbed my leg down.. and they go 'Joey Baby!', and like.. like grab my cheek, yes, ..and squeeze and squeeze it, yes, an.. idea ...yea, that's.. that's the ticket.. The Amtrak.. An idea.. and it will staunchly... uh, uh... forget it
.
* yes, nobody reads laws, and
(when we go full woke)
nobody needs to respect them - yet our Congress must be kept busy with something, anything! ja?
And here the time-proven algorithm:
(alias How To Goosestep Towards (among other Goodies™) Repro-Healthy Balloting)