Red Square

I was sitting home drinking beer with pickled red cabbage and watching Dr. Strangelove in high definition, when a virtual messenger's heavy boot knocked on my virtual door and virtually handed me the following email:
Dear comrades,

I found your website while high on beer and pickles (those little radioactive Nezhin cucumbers, you know? and cabbage, white - though I'm equally passionate about red pickled cabbage too, I just happened to have the white at the moment. Delicious. Especially with beer). And so, I knew at once that you had to know, too.

That terrorist-supporting rag (I'm speaking of the New York Times of course) has failed to print the enclosed Open Letter to Vissarion Jugashvili but YOU - you need to know the truth. They may have chuckled or squirmed with distaste as they (I'm talking about the New York Times editors, of course) read my letter, but they won't be laughing when the army of "disabled" children comes through their doors. Don't make the same mistake.

Vigilantly yours,
P.K. Penovani
An Open Letter to Vissarion Jugashvili (not That one, his Great Grandson)
Mr. Jugashvili, as we were standing in the lobby of Two Boots Pioneer Theater in New York, waiting to see the films you selected as part of annual Red Shift Festival that took place in March of 2007, we couldn't help but wonder about the imprint left upon you by family legacy.

We read the following eloquent description of your activities provided by Red Shift Festival program notes:

Vissarion Jugashvili (again, not That one, his great grandson) 'Writer and Director. During the nineties after graduating from the Academy for Film Screenwriters and Directors (VKSR), Vissarion worked in Georgia and Moscow where he created a series of short films, one a a comedy titled "All-Consuming Power of Art", VKSR, Moscow,1997. Later he turned to documentary: in collaboration with German colleagues he made a film about his grandfather Yakov Jugashvili - "Stalin's Son" MDR, Germany and ARTE, France, 2001 and a documentary about disabled children "The Others", Georgian TV, Georgia, 2002. Aside from his creative work in 2000-2001 he taught directing and film at the Association for Disabled Children in Tbilisi.' "

How redeeming!

"He must be evil," we exclaimed. "How could the evil that consumed his great grandfather eradicate itself so fully in just two generation? An open-minded, ill-educated and therefore non-paranoid American passerby feebly protested, "Look here. It says he's helping disabled children." "Ah yes. The Disabled Children." We stared at each other, transfixed with the same thought. "Mr. Jugashvili is creating an army of disabled children!"

But of course.

Mr. Jugashvili, your great grandfather was responsible for the disappearance of some 20 million Soviet citizens under the most grievous and horrific circumstances (editors - could you guys have your fact checkers run this 20 mil number through? You know, just to be sure? Thanks!) And now you mean to tell us you're attempting to atone for his sins? By bearing the same name as HIS father - way to carry on the torch - you go on to declare that not only are you busy creating valuable educational films with disarming titles like "All-consuming Power or Art" but you're also teaching directing and film at the Association for Disabled Children in Tbilisi?!

This simply (and obviously) shows that power is still something you care for deeply. Incredulous, we dug deeper, only to discover that this "Association" you so highly speak of is a training camp on the outskirts of Mskheta (the ancient capital of Georgia, about 1 hour outside of Tbilisi - editors' note - EDITORS - please note - You should make this note to sound more credible), where these "disabled" children are armed with AK-47s, trained daily in martial arts, hand-to-hand combat, firearm and explosive weaponry.

In short, the only thing these children are disabled by is their ability to feel remorse.

"Who would ever suspect the children?"
Right, Mr. Jugashvili?
Right?
Well, Mr. Jugashvili, we would.

We suspect them, and our gauntlet has been thrown down. We know all too well the evils your great grandfather was responsible for and we're not about to let down our guard so easily. Especially not when your impudence is so great as to use that very same name that still sews (albeit tender offshoots of ) horror and grief as it did in the 1930's, and finally, calling the festival "Red Shift?" Red? Not big on subtlety, are you, Mr. Jugashvili?

Frankly, that's just a bloody spit in our faces. Faces which are already contorted with fear at the thought of your army of disabled children walking unmolested into the hearts of our cities, laying terror and ruin upon our cities and families - the corpulently prosperous bastions of democracy to which your kind has shown so little tolerance.

Vigilantly yours, P.K. Penovani speaking on behalf of those you failed to fool
We checked and indeed the Red Shift Festical did take place in New York, and has its
website
And of course it's getting
reviews
too.

Premier Betty

Quote:
Faces which are already contorted with fear at the thought of your army of disabled children walking unmolested into the hearts of our cities, laying terror and  ruin upon our cities and families

The disabled children are coming! Be afraid... be very afraid!

Laika the Space Dog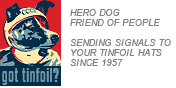 I found this very interesting.
We need more information though.

Comrade Penovani, could you expound and expand on this "disabled children" business?

I searched the internet and came up empty handed.

I did find that Soros funds a helluva lotta socialist programs in Georgia and eastern Europe with names that are close to this "association" but no cigar.
Maybe there is a connection?

Help us send a stronger signal.
Details Comrade! Details!


Poligrafushka Sharikov
Dear comrades, class enemies, and Laika the Space Dog (can I please pet you? :))
I would have liked to elucidate earlier on said camps (though my story was so believable I found it a little strange that you act like some kind of imperialists asking for more "info" and "facts"). Anyhow, just as I pledged to tell more about disabled children armies in an e-mail to Comrade Red Square, my door was knocked down by a number of highly unsavory types in black leather overcoats & caps.  The following two days consisted of what these types referred to as "ideological rehabilitation" and involved large amounts of vodka, nail polish remover, tender petting of my skull and knee caps with chandeliers and Maxim Gorky's poetry. Naturally, the the most painful thing about was the latter (Gorky's poetry).  The visiting comrades fixed the door though so I can't complain.
During these tovarishi's visit I learned the most shocking thing - namely that my favorite drink Bethlehem Tears contains NO paint thinner, but is just equal parts vodka and good old nail polish remover (!!!). I also learned that in my efforts to stay true to the ideals of the Party and the People I actually went far off the course - like a sheep that strayed from its flock because it was busy braying too hard in honor of the Leaders.
I am hereby thoroughly and completely convinced me that these camps (which I saw with my own eyes) and the armies of disabled children are actually
for our own good
(and the good of the Proletariat Around the World), therefore it is not only in my, but also in your best interest that we know
as little as possible about them
, and when the time comes for us to know, we will be informed through appropriate channels.
To the Party and the Children and the Day When Armies Come!
I hereby remain vigilantly yours,
Poligrafushka Sharikov-Penovani

Red Square

Oh. Now it all falls into place.
Welcome Comrade Sharikov, we needed a dedicated comrade like you in our ranks, especially the lonely Laika who may be in need of a good proletarian mate.
For you must be none other than the product of a
scientific experiment
conducted by Professor Preobrazhensky wherein a criminal's testes and pituitary gland were transplanted into a stray dog named Sharik. From a good friendly canine you gradually developed into an exemplary New Man, loyal servant of the Party and the People, fabulously successful in the new Soviet society and pursuing a career with the "department of the clearing of the city from cats and other vile animals."
Like Her Excellency HRC, you have famously pronounced, "Take everything away, then divide it up." This should make you fit perfectly among other Cube members.
Come to think of it,
your story
should become a required reading for every People's Cubist, especially the dog lovers (you know who you are).
In the spirit of free everything,
here it is free for all
on the Internet.

Father Prog Theocritus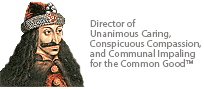 Ah, Red, you misunderstand the true subtlty of HRC's dictum, "Take it all away and then divide it up." HRC is the dealer, and the dealer gets a cut for rent of the cards, table rent, utilities, cleaning staff, and she's a human too, getting her part.

And let's not forget the dealer's bus fare too--that special-built Lexus 36' long. Needs to be for the sitz bath for her roid and trotters. The dressing room; only a marble bath with 24K gold faucets will do.

But HRC is our guiding light. With her we will march in goose-step into the glorious future. We can wave at the proles who line our parade route, our windows rolled up lest we smell their unwashed bodies, with soldiers riding point in case some of the starting masses break through the cordon of people to get crumbs of foie gras.


Poligrafushka Sharikov
Red Square
. . . you have famously pronounced, "Take everything away, then divide it up."
Oh yeah I remember that. I
am
a genius :)
I don't appreciate my name getting mixed with that of some HRC lady though, whoever she may be, unless you're talking about some sexual congress between us in which case great.  Otherwise, like I said, I don't appreciate being compared to or spoken to on the same terms as woman, whoever she may be.
I'm off to choke some cats now. Whee!!!!
Winefully yours,
Poligrafushka

Poligrafushka Sharikov
p.s. Heart of a Dog is a genius story indeed - and also it's one of those rare cases when the (titular Soviet) movie is as good as the book.  Read the book & then watch the movie.